Posted: May 16, 2013
Filed under: ABC, Once Upon a Time, Recaps
| Tags: Baelfire, Captain Hook, Emma Swann, fairy tales, Henry Mills, Neverland, Once Upon a Time, Peter Pan
Leave a comment »
Previously on Once Upon a Time: Second Star to the Right.
This week on Once Upon a Time, it's the SEASON FINALE! As the destruction of Storybrooke seems imminent, everyone must learn to work together in order to prevent disaster. In Storybrooke, there are new alliances, a few sacrifices, and the revelation of a new "Big Bad." In Neverland, we catch up with where Hook and Baelfire left off last week.
In Neverland, Hook and Smee speculate that Bae might belong to "him," and wonder what they might receive as a rewarding for returning him. However, when Hook goes to question his captive, the revelation that he's Milah's son changes his mind. Smee panics as the Lost Ones arrive looking for Bae, but Hook is unwilling give up the key to his revenge. Luckily Bae remains hidden. During a sailing lesson they bond over being abandoned by their daddies, and Bae reveals his father is the Dark One and the dagger is the key to his demise. Later Bae discovers a drawing of his mother on Hook's desk, and concludes Hook is the pirate that killed her. Hook quickly tells him the real story, but Bae still blames him for destroying his family and asks to be taken home. Hook offers Bae a place on the ship, but the boy is not convinced, claiming that the pirate only cares for himself. It's enough to turn Hook back to revenge, and he gives up Bae to the Lost Ones. As they hit shore, the Lost Ones compare Bae to a drawing and realize he's not the one "he" is looking for, but that "Peter Pan never fails." The boy on the drawing? Henry.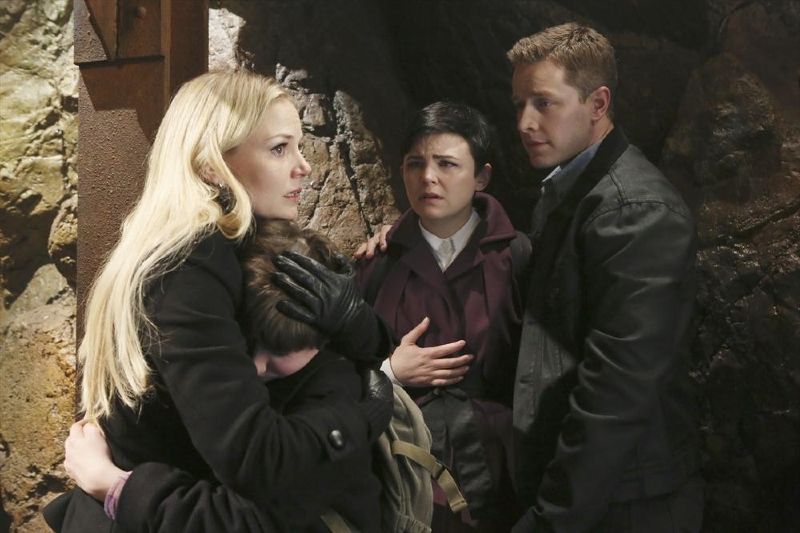 In Storybrooke, Rumple is clearly still worried about the Prophecy and is about to use magic to send his grandson flying from a swing into some convenient pointy rocks (what is it with the death trap playgrounds in this town?) when he's interrupted by the arrival of the Charmings. As Emma breaks the bad news about Neal to Henry, her parents inform Rumple. They also ask for his help with the self-destruct device, but with his son gone, Rumple doesn't mind dying. Meanwhile, Gremara take the device down to the mines and activate it. As the Charmings regroup at home, Regina offers to slow down the device to give them enough time to recover the magic beans and portal everyone safely to the Enchanted Forest. Hook arrives, gets punched in the face, and offers to help, since dying wasn't part of his revenge plan. At Gold's shop, the dwarves raid Sneezey's stein since the Blue Fairy has conveniently created a potion (with a hair from Pinocchio's head) that will restore a person's memories if drunk out of an object that's important to them. Leroy offers some to Rumple, since he owes Belle a favor. As the forest starts to reclaim the town, Rumple and Belle have an emotional reunion. Charming and Hook manage to snag one bean from Gremara; Regina prepares to sacrifice herself to save Storybrooke, begging Emma to "let her die as Regina," not the Evil Queen. Everyone meets up at Granny's and prepares to go, but Henry refuses to leave without Regina. Snow suggests sending the trigger through a portal like the wraith (since that worked so well the first time), instead of "building a future on Regina's blood." Of course, they go down to the mines to discover that Hook has double-crossed them and taken the bean. Convinced they're doomed, Emma shares a tearful embrace with her parents, calling them "mom" and "dad" for the first time. (Hello emotional turmoil, I've missed you!) She then has a "holy crap I can do magic!" moment and combines her powers with Regina, saving everyone from horrible CGI destruction. During the confusion, Gremara kidnap Henry and take him through a portal to "him." Hook arrives shortly afterward with the bean. Regina, the Charmings, and Rumple sail off to Neverland to rescue Henry, while Belle stays behind with a spell to cloak the town from further minions of the Big Bad.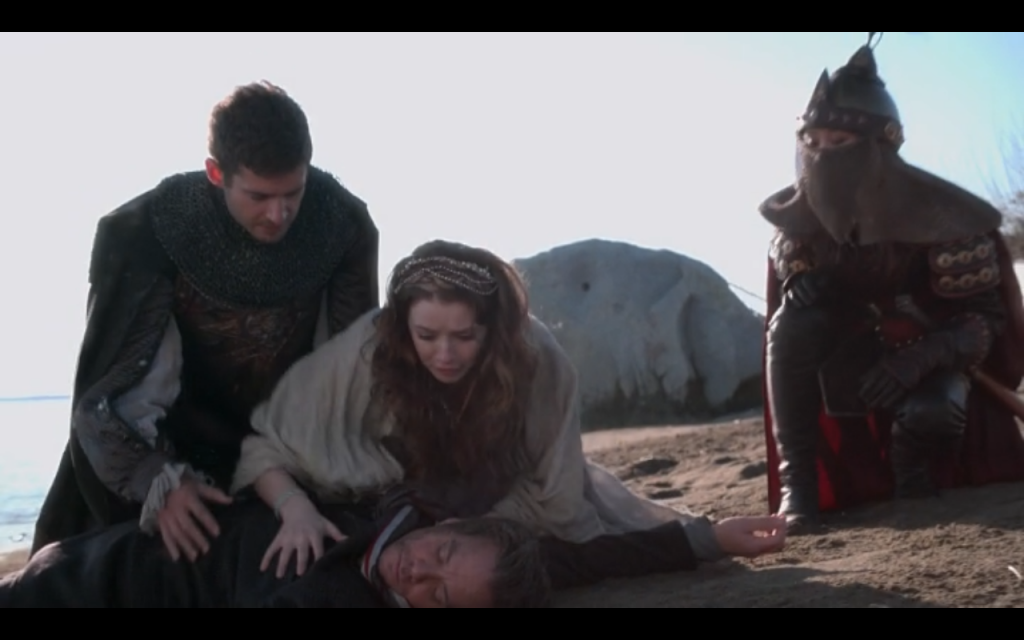 In the Enchanted Forest, Aurora, Philip, and Mulan discover a gravely wounded (but alive) Neal on the beach.
That's it until the fall. Stay magical, my friends!
Thoughts/Theories
• Coming to the end of the season, I find myself a little disappointed. The latter half of season 2 just did not pack the same punch as the first half, nor did this season have the same sense of purpose that season 1 did. This fracturing of one plotline (break the curse) into multiple plotlines (Cora in Storybrooke, finding Baelfire, the magic beans, the Prophecy, Neverland, Greg and Tamara vs. Magic) has made the show feel convoluted and disjointed. With so much going on, the jump from plotline to plotline takes away from character development – i.e., the evolving nature of Emma and Snow's bond in the first half of season 2 that we don't really see upon their return to Storybrooke – and leaves a lot of plot holes.
• The rules of travel between realms are infinitely frustrating to me. Rumple's implied scuffle with Peter Pan suggests that Rumple traveled to and from Neverland at least once, and it's never explained how Hook returned to the Enchanted Forest, especially considering you can "never leave" Neverland. And the dynamic of the magic beans seem to vary: when Neal falls through the portal, it's implied his destination is totally random, yet when Gremara and Hook use the beans, they have no issue choosing Neverland as their destination.
• Henry is subject of the prophecy, and also the objective of the "big bad," Peter Pan. Considering we now know that both of his parents are magical, how much do you want to bet that Henry's got some magic of his own? I have a feeling this will be one of the big storylines of season 3.
• New drinking game: very time Hook gets assaulted or double-crosses someone, take a shot.
Nicole N. decided to justify the countless hours she spends watching television by writing about it here. She is currently watching Call the Midwife and crying into her tea each Sunday. For more tv-centric musings, check out her tumblr.
---
Posted: May 7, 2013
Filed under: ABC, quotes, Recaps, TV
| Tags: Careers, Fiancee, Flip Flop, Nemesis, Real Estate, Tooth Fairy, Writer
Leave a comment »
Previously on Modern Family: The Future Dunphys
Flip Flop
Cam and Claire's house project is finally complete and they are ready to begin the sale. But, no matter how good the house looks they are having trouble finding a buyer. Mitchell bites his tongue and refrains from saying "I told you so" even though he really wants to. Despite their efforts the only offer they get is below asking price and comes from Phil's nemesis, Gil Thorpe. Luke claims to have an interested buyer and when they find out his buyer is an adult they jump on the opportunity. Using Haley's stalking skills to learn everything possible about this guy. They tailor the house for him, but its all too fishy and he backs out. And when Gil Thorpe shows up and sees there is a gay couple looking at the place (Cam and Mitchell), he advises his buyer to to up their offer. We all know you should gay real estate. They know where its at.
Javier brings his new girlfriend Trish to meet Manny. Gloria is threatened by this woman who seems to be so awesome. When Javier announces that the two are actually getting married she freaks out and tells Gloria that she is threatened by her because Gloria is "the one that got away" for Javier and Manny never shuts up about her. Upon hearing this, Gloria welcomes Trish to the family.
Best/Funniest Moments
Haley cyber stalking Zack
Gil Thorpe…all of the scenes
Trish's freak out
Quotes
Haley: Okay so after a quick scan of his facebook, twitter, tumblr, pinterest and instagram, this is what I know.
Luke: Privacy is dead?
Phil: Prepare to Phil the agony of Dunfeat! Both names!
Gloria: If she learns how to froth his cappuccino I am history!
Career Day
Luke is bringing Phil for career day at school, unfortunately for Phil, Gil Thorpe's daughter is in the same class. Gil, predictably ruins Phil's presentation. Later, the teacher asks Claire to present about being a stay-at-home mom. But Claire gets slammed with all these questions that make her feel bad about herself. She leaves abruptly, and Gil follows her to offer her a job. Phil knows its to torture him, but supports Claire anyway since its what she wants. She quits after one day.
Lily lost her first tooth and in addition to a lovely card and fair dust she gets $100 dollars. Which was obviously a mistake but when Cam and Mitchell try to convince Lily that the tooth fairy made a mistake and will want her money back, Lily isn't having it. They bring Haley in as the tooth fairy, but Lily sees right through that. Haley, though, saves the day anyway by saying that keeping the $100 is def worth skipping presents from Santa. Reverse psychology, it'll get ya.
Jay, feeling a little insecure about how boring his job is, claims that he once thought about being writer but "life" got in the way. When Gloria picks up on the fact that she is "life" she gets out of the way so Jay can pursue his dream. Jay quickly discovers he's no good at writing, so he has Manny cover for him. But Manny's sensitivity to Gloria's critiques gives him away.
Best/Funniest Moments
Mitchell's comments about the fairy dust
Haley in the tooth fairy costume
Gil torturing Phil
Quotes
Luke: For the record, I do all my own wiping.
Claire: You have dumb ideas.
Phil: Name one…that went on for awhile.
Cam: Well obviously the tooth fairy made a mistake.
Mitchell: Maybe it's cause the tooth fairy had a little too much chardonnay last night.
---
Posted: May 7, 2013
Filed under: ABC, Once Upon a Time, Recaps
| Tags: Baelfire, Greg Mendell, Neverland, Once Upon a Time, Tamara, Wendy Darling
1 Comment »
Previously on Once Upon a Time: The Evil Queen.
This week on Once Upon a Time, the conflict between our magic-hating outsiders and the heroes of Storybrooke comes to a head. In Storybrooke, Greg and Tamara unleash a world of hurt upon Regina and while Emma and Co. attempt to find her (and the remaining magical beans). In London, we learn what happened to young Baelfire after he fell through the magic portal alone.
In London, Baelfire travels through the portal and wakes up alone in turn of the century England. Starving, he sneaks into a townhouse through an open window to steal some bread. He's caught by the young Wendy Darling, and she offers him as much food as he wants. Wendy hides him in the crawlspace, but her parents discover their guest and invite him to stay. That night in the bedroom Wendy is excited for the arrival of "the shadow." Bae reveals his history with magic and warns her that it comes with a price. Despite his warning, Wendy goes to Neverland when the shadow visits that night. Wendy returns the next morning and confirms Bae's fears – the shadow never lets children leave Neverland once they arrive. The only reason she was released is because the shadow intends to take one of her brothers. That night the shadow returns, and Bae offers to go with him to keep Wendy's family intact. En route to Neverland, he gets the best of the shadow and falls into the sea surrounding the island. He is fished from the sea by our favorite pirate, Captain Hook.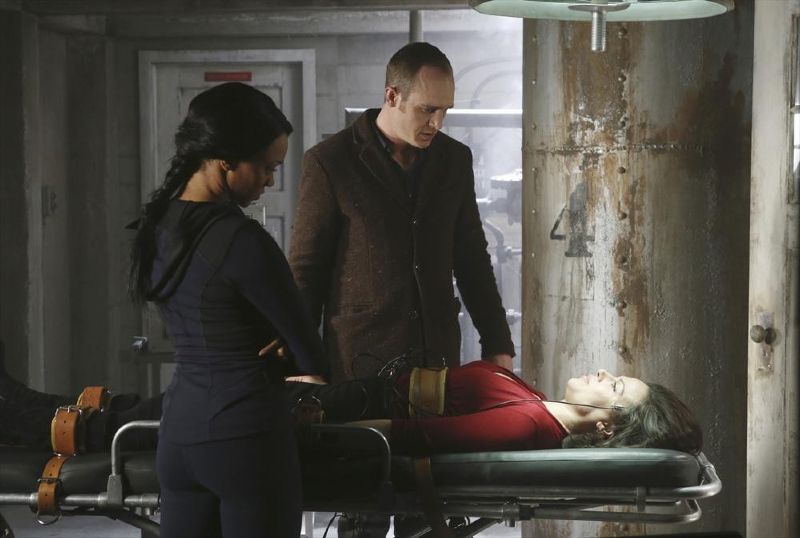 In Storybrooke, Emma, Snow, Charming, and Henry try to track down Regina and the magic beans. When they get to her office, however, the beans and Regina are missing and there are signs of foul play. Emma immediately suspects Tamara. On the other side of town, Tamara takes inventory of their stolen items (including the trigger and the magic beans) and prepares to send their data to the "home office" before they get their next assignment, while Greg attempts to torture the location of his father out of Regina. It turns out the two are part of a secret society determined to destroy magic to keep it out of the "real world." While Emma tries yet again to convince Neal that Tamara is up to no good, the Charmings acquire a spell from Rumpelstiltskin to locate Regina. Lacey overhears his magical dealings, and is intrigued by living with him forever, if only they get the prophecy out of the way. Emma tries to catch Tamara in a lie, but Neal's fiancé remains one step ahead of her, making her looking like the crazy ex yet again. Emma eventually confesses to Neal that it hurts to see him move on, and he admits that leaving her was his biggest regret. Snow's magic-induced vision leads them all to converge on the cannery by the docks. Tamara flees, but Greg refuses to leave – tormenting Regina until she admits she killed his father and buried him at their campsite. The Charmings rescue Regina, Greg escapes, and Emma and Neal have a showdown with Tamara that ends with Neal shot and Emma dangling over a magic portal. Just when it seems like everything will be okay, the floor collapses and the two have just enough time for a confession of love before Neal disappears through the portal. A shell-shocked Emma returns to her parents. The news goes from bad to worse when Regina clues them into the trigger in Tamara's possession. As Greg buries his father's remains, Tamara informs him of their new assignment – blowing Storybrooke off the map.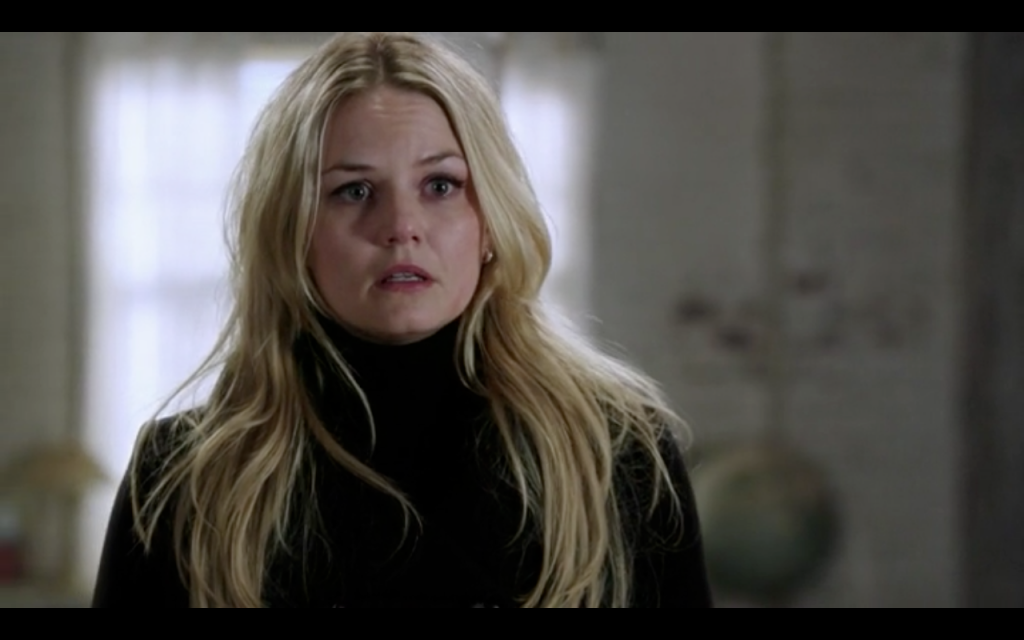 Next week, Storybrooke (and Regina?!) are possibly no more.
Thoughts/Theories
• Poor Emma. Is she ever going to have her happy ending?
• This development with Tamara and Greg and their anti-magical secret society is interesting. I wonder if this proves my theory that the myths and legends of other cultures represent magical realms that may have crossed over into the "real world."
Nicole N. decided to justify the countless hours she spends watching television by writing about it here. She is currently terrified of Stanley's oddly-shaped head on Project Runway. For more tv-centric musings, check out her tumblr.
---