Posted: September 23, 2012
Filed under: Fox, Glee, quotes, Recaps, TV
| Tags: boyfriend, Britney 2.0, Britney Spears, Brittany S. Pierce, Glee, justified, justin timberlake, madison square garden, Puck returns, Rachel sexy, recap, Unique, VMA's
Leave a comment »
Here's what you missed on Glee: The New Rachel
Story
Brittany begins to feel the woes of being held back for another senior year.
Marley admits that she has a crush on Jake.
Rachel shows Cassandra that she can be sexy.
Shuester decides to have another "Britney Week" to perk up the New Directions.
Puck returns to give Jake some (half) brotherly advice.
Brody tries to take his relationship with Rachel to the next level.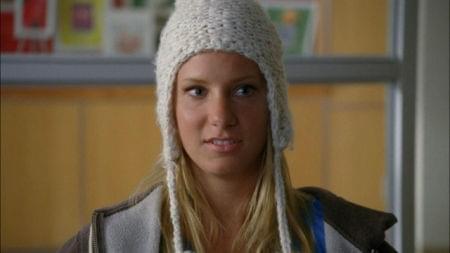 If It Ain't Broke…Well that usually applies, but this episode was an exception. The first Britney themed eppy was one of my favorite shows of the entire series so far. So when I heard that they were going back to the well–so to speak–I was more than skeptical about it. But the satirical tone in which it dealt with the parallels in Brittany S. Pierce and Britney Spears' struggles to get back on top was a refreshing perspective. A rare occasion in which the sequel is actually comparable to the original.
Farewell Finn? Brody doesn't seem to know how to stay away from Rachel and it doesn't seem like Rachel is going to be able to hold on to what is left of her and Finn's relationship with all the distance in between. It doesn't help that she is going to be around Brody everyday at school while he's being all sexy and sh**. Seriously though, is everyone named "Brody" a certified sex bomb?!
Speaking of Sexy: We all know Glee can teeter on the inappropriate from time to time but after this eppy I wondered if the show got moved from Tuesday at 8ET/7CT to Thursday 9ET/8CT because things are going to start get a bit more…uh…is sultry to adult of a word? After seeing Rachel's "sexy" performance and all the talk of "scissoring" and "lady love" I thought it was a solid question to ask.
Unwanted Observation: Wade looks much better as "Unique". I just can't un-see that. Or un-type it for that matter. You're welcome.
Blonde Besties: Thank you, Sam. I can't bear to see Brittany sad for extended periods of time and I hope that you are going to help me with that issues going forward. Since Santana isn't around maybe it'll give Brittany another partner within the glee club. Maybe it can go further than that but I'll settle for the simple things at the moment.
Music
Hold It Against Me (Brittany and the Cheerios) Unlike Sue, I didn't think this performance was "garbage wrapped in skin." I didn't love it, but nothing is every quite deserving of her harsh critiques. Obviously the Cheerios hired a new choreographer over the summer, which was evident by how much better their dancing is this year. Song-wise I would have preferred to open with a Britney classic, but as Artie noted later in the episode, they were kind of running out of solid material to use. Oh well, still a decent opener. (B)
Boys / Boyfriend (Artie and Blaine) If THIS was the result of what happened when they realized they were running out of Britney material, I couldn't have been happier. Boys is a throwback to Britney when she was in the 'woman' portion of her former "I'm not a girl, not yet a woman" phase and Boyfriend is Bieber leaving behind his bangs and entering the Justified era of his career. Saying this was one of the highlights on TV this week for me is severely downplaying things (seriously, I squealed like I was watching N*Sync at Madison Square Garden when I realized what was happening). Now, you couple all that with Blaine and then add Artie, who does anything even remotely R&B-ish (here, that would be Boyfriend) with complete ease and you have what was my favorite performance of the evening. (A+)
Womanizer (Unique, Tina and Marley) Sometimes I can watch Glee and ignore the ridiculousness and then there's times where you have a group of girls dancing and following other students around the school and getting up leaving class to follow girls and even a gym class doing full-on, Olympic gymnastics. Those are the times I get slightly annoyed with how completely unrealistic the scene is and wish they'd just do a dream sequence or something. Outside of that scene itself, Unique and Tina sounded really good. This wasn't a highlight for Marley, but it did set the stage for her and Jake, which will eventually be known as a really bad and heartbreaking idea. (C)
3. (Joe, Tina and Sam) Did Joe not understand the symbolism in this song's lyrics? Maybe the laid-back, folksy sound confused him and the chorus made him think the song was a tribute to Peter, Paul and Mary. Regardless, this version was far superior to the original. It was nice to see Glee get a little creative instead of just doing a bland cover. In terms of performance, none of the three out-shined the others, but Tina was my favorite. If she's this good two episodes in, I can wait to see her later in the season. (A)
(You Drive Me) Crazy / Crazy (Marley and Jake) I once heard a mash-up of Britney's Crazy with Gnarls Barkley's Crazy, but it was right after she went a little nuts, so the sentiment was a little depressing as a fan. However, this was stripped down and played to Jake's strengths, which include sounding good and looking soulful while singing. Although their voices had tons of chemistry, I wasn't really feeling it between them, and I know this because I wasn't screaming at the television, begging them to kiss at the end. But it's not about that. It's about the music and musically, they're already well on their way to being the New Direction's next "it couple." (A)
Oops….I Did It Again (Rachel) This is why trying to keep a show that's supposed to be centered around a glee club bouncing back and forth between two different states, schools and general energy may not work. It's about knowing your characters people! Rachel wouldn't pick Spears, let alone this song, as a way to demonstrate her sexy. And if for some reason she did, she would have done the laying down scene from the video for authenticity. Unfortunately (and also very fortunately), the sexiest part of this performance was the curly-haired girl doing the split between the tables. While Rachel killed it in terms of sound, which she always does, she's had much sexier moments back in Lima. (B)
Gimme More (Brittany and the New Directions) You can only truly appreciate this whole scene if you vividly recall the 2007 VMAs. The writers clearly knew there was no way they were topping last year's Annual Fall Assembly performance, so instead they failed in the best way possible. I'm giving this such a high mark because it was hilarious. (A)
Everytime (Marley) It was pretty obvious when this song came out that it was about Spears' breakup with Justin Timberlake. I think I had that long and dramatic relationship in mind when I watched Marley perform this, because all I could think about was how it was way too soon for her to be this over-the-top about Jake. Brittany sadly waiting for Santana to become available on iChat and Rachel painting over her Finn "artwork" was a good backdrop, but overall, this song would have garnered a stronger emotional connection if we'd believed Marley was truly heartbroken and not just a little crushed. I hope they don't overplay everything early in the season, it would be such a waste of her obvious potential. (B)
Quotes
"My name is Brittany S. Pierce, and I finally know how Jesus feels in his house way up at the top of the North Pole, because I am on top of the world." – Brittany…not quite understanding how voice-overs work
"Tough love feels a lot like mean." – Brittany
"I'm not speaking to you, I know you joined a gang." – Brittany to Lord Tubbington (outfitted in a vest and glasses)
"Well thanks, but I don't really have much time. After school, I'm hopping into bed, eating cashews and bacon, and then watching the Client List Marathon." – Brittany
"Kiki is Suri's smart older cousin who is really jealous of how famous Suri's gotten. She lives inside this super cheap phone I found at the laundry mat." – Brittany
"Well, my voice is too weak to sing live. I've been up every night this week yelling at the shrubs in my yard that have been yelling at me." – Brittany
"You're late and dressed like a Walgreen's underwear model." - Cassandra
"He never told me about you when I was a kid, but I do remember my mom and dad arguing about some slut waitress…" – Puck, who had a threesome at 7 and once beat up a police horse
"That'd be my mom." – Jake
"I think we just think the same." – Sam
"Yeah, it's probably because we're both blond." – Brittany
"I got a C- on my US History exam, which the teacher bumped up two whole letter grades because I wrote in English instead of my secret language I invented in middle school." – Brittany
"Did that come out this morning? Because we scraped the bottom of that Britney barrel." – Artie
---
Posted: September 18, 2012
Filed under: Fox, Glee, quotes, Recaps, TV
| Tags: boyfriend, Brody, Glee, justin bieber, Kate Hudson, Marley Rose, NYADA, pyt, rachel in new york, season premiere, Stoner Brett, Unique, Whoopi Goldberg
1 Comment »
Here's what you missed on Glee (last season): Goodbye
Story
Rachel has to start all over to establish herself at NYADA.
The McKinley High Glee Club has open auditions to find new members.
The glee club is no longer at the bottom of the high school hierarchy.
Kurt is struggling to find his way after graduation. But Burt and Blaine help push him in the right direction.
Separation Anxiety: My largest concern about this season was how the show was going to deal with the original characters' departure from McKinley. I'm not sure if we are going to get a glimpse of what the rest of the former New Directions are up to but I knew Rachel was to be a focal point–I mean, she's Rachel Berry.
Marley Berry? I wasn't sure if the episode's title was intended to be aimed at Marley's arrival to the glee club or for the changes Real Rachel is going through in New York–and, honestly, I'm still not sure. Did I like Marley as soon as I heard/saw her? Yes. Does the glee club need a new strong female lead? Of course. IS she REALLY "The New Rachel"? I doubt it. But hopefully she is a strong enough character to carry the glee club going forward. Rachel started as a sophomore as well and we see what lengths she went through to solidify her place with the New Directions and at McKinley as a whole. Good luck Marley. No pressure…
M.I.A. Ummm…where was Santana? And Mercedes? And Puck? And Finn? And Roz? And Rory? And Emma? And Mike Chang?! And that one black guy from season one?!?! I need answers. Or explanations. Or apologies. In copious amounts.
Leap of Faith? Do parents really just send their children halfway across the country with nothing to support themselves with? I love the fact that Rachel has someone from Lima with her during her road to Broadway but it just seemed like the move was forced. I was hoping we actually got to see both her and Kurt struggle with their new environments for awhile before they became each other's security blanket.
Wishful Singing: I know the singing angle usually belongs to Nicole, but I have a request–maybe more like a plea. Mr. Ryan Murphy, if you have a heart of any kind can you please have Sam and Artie duet it up with a Justin Bieber "Boyfriend" swoon session? Preferably directed at Marley. Just thinking of it brings back fond memories…
MUSIC
Call Me Maybe (Blaine, Tina, Unique, Brittany) This late spring/early summer hit hasn't gotten old for me yet, but I'm still glad they knocked the obligatory performance out early on in the season. I hated the concept of this song being used to pick the "new Rachel" because it only showed how good these four sound as a unit without at all showing the strong stand-out voice/performer they seem to think the glee club needs. Watching Brittany dance with Blaine only made me miss Mike, but overall, a very adorable start to the episode. (B)
Dance Again/Americano (Cassandra) Someone over at Glee sure knows how to pick their blonde guest stars! I knew Kate Hudson could dance, but I was mostly indifferent about her role until this performance. Solid dancing and singing, but it also illustrated that it's only appropriate to bump and grind with your students when they're 18 and older (Mr. Schue, yes, I'm talking to you). I can't wait to see if Cassandra's sober Jekyll and drunken Hyde dynamic plays a part in the performances/musical selections she has this season. (B)
NY State of Mind (Rachel and Marley) A downtrodden Rachel in New York reminds me of the Rachel in season one, before she got borderline annoying, bursting at the seems, full of unappreciated potential. Maybe that's why hearing her sing this classic gave me those familiar "Rachel Berry chills". Marley was also great, although not quite Rachel great, but there's no doubt she'll bring something new and greatly welcomed to the glee club in terms of performance and sound. One minor note: I fear that Marley's newsboy hat is her 'thing'. Either I don't like it because it's distracting, or it's distracting because I don't like it. Regardless, I don't like it! (A)
It's Time (Blaine) If we're going to have the requisite courtyard performance each season, it should always be done by Blaine. The double-dutch, jump ropes and red cups are things that can only be pulled off by those as adorably stylish as Kurt's amor. Long distance + high school isn't the best combination, so although I don't have much hope for the longevity of Klaine's romance, at least this performance will serve as a reminder of happier times. (A)
Chasing Pavements (Marley and the New Directions) Did I find this song particularly relevant to Marley solidifying her status as a New Directions member or Kurt joining Rachel in New York? Not at all. But whatever, this moment wasn't about relevance, it was about reminding us that the New Directions are moving on with a very solid group and at least half of the show will now be Rachel Does New York (or some variation). For Marley's first solo with the group, this was pretty great. (A)
Busters Get Popped (Stoner Brett)/ Never Say Never (Jake) Please, oh please, don't let this not be the last time we see Stoner Brett. I know the focus was supposed to be on everyone else sounding so crappy that Jake and Marley stood out, which they did, but Mr. Brett certainly shined by providing one of my favorite moments of the night. Jake aka the bad boy that is going to take Puck's place (just in case that wasn't clear, and to avoid even a hint of symbolism, the writer's went the literal route and made him Puck's little brother) sounds and looks like a beautiful, albeit slightly rough, little angel. I'd like more of him and more of his voice, so let's not drag this whole "I'm damaged and singing won't fix that" thing out too much longer.
QUOTES
"Oh, in case you're wondering, which you were, I'm straight." – Brody
"Kitty is my new head bitch. She's like a young Quinn Fabray, except she's not pregnant, manic depressive or in and out of a wheelchair." – Sue
"That's a great haircut Mercedes. I thought you graduated." – Brittany…after seeing Wade
"It's hard making out over Skype, you can't really scissor a webcam." – Brittany
"I had a song in my heart Blaine Warbler, and you killed it. Now, I have a dead song in my heart and pretty soon, the corpse of my head heart's song is going to start to smell." – Brittany
"…a pre-op Precious, based on the novel Barf by Sapphire." – Kitty…on Wade
---
Posted: May 23, 2012
Filed under: Fox, Glee, Recaps, TV
| Tags: 0.0 gpa, Burt, Forever Young, Glee, gloria estefan, goodbye, graduation, Insdie the Actor's Studio, Mike O'Malley, NYADA, Rachel and FInn, rachel in new york, Roots Before Branches, Season Finale, Single Ladies
3 Comments »
Here's what you missed on Glee: Nationals
It's graduation time!!!
Puck gets a second chance to pass his test for graduation.
Rachel, Finn, and Kurt get their acceptance/rejection letters.
Santana struggles with what she is going to do after graduation.
Blaine and Kurt are anxious about their (potential) long-distance relationship.
Maybe Next Time, NYC: For Kurt and Finn at least. Finn was rejected from Inside the Actor's Studio and Kurt didn't get into NYADA. After reading about characters returning I thought Rachel and Kurt weren't going to get accepted into NYADA immediately. But it seems as though most o the graduating seniors will come back to the show in some facet. It would be strange seeing Rachel in New York interacting with completely different characters all on her on…the same goes for any other character that leaves McKinley. It seems like a bit much to try to maintain a main storyline when it has to be broken up  in such a manner.
Santana Seeking Stardom? I have long thought that Santana has the most vocal range of any other member of The New Directions and it only makes sense that she is constantly questioning why she is usually second fiddle to Rachel or Mercedes. With the help of her selfless mother, Mirabel (Gloria Estefan), Santana is going to get her shot a New York too. Of all the pairings that can take place outside of Lima I think that Rachel and Santana in New York is an almost perfect fit. They are, and always have been, the best of frenemies–not counting everyone being nice to each because they've been through so much together, and they're graduating yadda yadda yadda–and I think they would make an interesting storyline together.
O.O GPA?!?! Did Brittany dance her way to her senior year? I will admit I'm more athlete than mathlete, but how do you even make it out of home room with that?! Who needs prerequisites for Senior Class President anyway…
The New (Look) Directions: Artie, Rory, Sugar, Joe, Sam, some Asian girl, and Blaine are all that is left to carry on for next year. They have: strong male vocals, no strong dancers, and no female vocals at all. Are they still running with that whole Sugar can't sing thing? Because I can't un-hear this. Then that just leaves Tina…time to recruit!
Music
Forever Young – Mr. Schue (A) Although this wasn't a rap, as Quinn requested, it definitely turned me into a "hot-mess teary train wreck". Damn you Schuester and your penchant for having performances that tug at the heartstrings!
Single Ladies – Burt, Tina and Brittany (A++) In terms of sentimental value, this was an amazing graduation present. As a performance, coupled with the flashback to Kurt, it was an amazing reminder of the earlier Glee days. I wonder how long it took Mike O'Malley to learn those sweet, yet slightly stiff dance moves.
I'll Remember – Kurt (B) This performance didn't really stand and it wasn't because Kurt's voice wasn't it's usual amazing falsetto. I think it lacked the emotion I was expecting from every moment of this episode, which might have been an unfair standard.
You Get What You Give – New Directions Seniors (A+) Initially, I couldn't decide if I loved Finn's almost overly enthusiastic intro or hated him for being annoyingly enthusiastic, but all that stems from me being unsure of how I feel about Finn. Mercedes and Quinn insisted on wearing those awful awesome hats and Puck found it the best time to break out the moonwalk. But none of those things really took away from performance. By the end, the torch had been passed to all the non-seniors…another moment for a tear or two.
In My Life – New Directions Non-Seniors (B) These are the voices we can get used to hearing next year, and honestly, they sound really good. There's not a Rachel Berry in the bunch of 'em, but still, it's definitely a strong group. However, I didn't appreciate that this song was dedicated to Finn….and only Finn.
Glory Days – Puck and Finn (A) I owe the show's producers/writers/whoever a huge thank you. I just knew watching the seniors graduate would make me cry, but instead they made this the oddest graduate ceremony and I spent much of the performance thinking about how annoyed the other students must have been at New Directions stealing their moment, especially since everyone knew Puck barely graduated. However, we don't watch the show for the other students, so in that respect I suppose it makes complete sense.
Roots Before Branches – Rachel and Finn (A) This whole performance was just perfectly done. The lyrics ("I gotta have/roots before branches/to know who I am"), although bittersweet, were incredibly fitting and it was so Glee that everyone showed up to the train station to tell her goodbye. Finally, Finn gave me a reason to like him again and Rachel didn't pull a Mary Tyler Moore hat toss after she got off the train.
Quotes
"A part of me wants to lock these doors and stay in here with everyone forever." -Mercedes
"We could use the wastebasket for the toilet and then we could eat Joe for the food since she's been here the shortest so we know her the least." -Brittany, who apparently thinks Teen Jesus is a girl
"You know how hard long distance relationships can be, we both saw The Notebook." -Blaine
"What did you think was going to happen to me? I have a 0.0 grade point average." -Brittany
"…or I could have started one of those letter writing campaigns like they had for Friday Night Lights or something." -Finn
"Well you think that over Sue Sylvester while you nurse your 1,000 year old vampire baby. You just be sure to bottle feed because that baby is going to use those sharp ass teeth to bite holes in those saggy ol' boobs." -Coach Roz Washington
---