Posted: January 11, 2013
Filed under: Fox, Fringe, Recaps
| Tags: Anna Torv, Blair Brown, Child Observer, Fringe, John Noble, Joshua Jackson, Michael Cevaris, Nina Sharp, Observer, Olivia Dunham, Peter Bishop, season five, September, the final season, Walter Bishop
1 Comment »
In following with last season's formula, we went from a very boring, meandering first few episodes (Ignoring Transilience Thought Unifier Model-11 and Letters of Transit), and are slowly picking up speed. Things have finally begun to get interesting again. Astrid is still stuck in the lab doing menial "tape-recon" work, but everyone else is slowly developing. I have absolute faith in the last three episodes–mainly because of Joel Wyman, extraordinaire and genuis–but also because of all of the hype the last episode, which is number 100!, has gotten. There have been no spoilers or teasers leaked, but everyone is saying it is a beautiful ending; the best episode yet. Abrams, Wyman, Noble, Jackson; have all said it's one not to miss. And I will not be missing this. For anything.
I'd like to say that this is a recap of three episodes because I was sparing readers from hundreds of words, complaining about the miniscule problems of each. But the truth of the matter was my indifference for these episodes led to an indifference in talking about, or thoroughly examining, these episodes. Here's a three-episode recap/review/rant, along with the hopes that the next three will be amazing–and worthy of their own posts.
The Human Kind:
Peter, who has become more and more Observer-like in his actions and mannerisms every day, can now predict the future and possesses all the same qualities as the Observers. Walter warns that if Peter does not remove the device from his head soon, the effects will be irreversible. They find another tape to recover an electromagnet; Olivia goes to track it down and meets Simone, a woman who has been waiting for over 25 years for someone to show up. The electromagnet is huge and can be only moved on a large truck. On the way back to the lab, Olivia is accosted by petty thieves who manage to capture Olivia–after she shows off her fighting chops, something we haven't seen this entire season. Olivia manages to escape, setting a trap using trash and Etta's bullet to kill one of them. Peter is in the works of killing Windmark when Olivia shows up. She convinces him that this is not how Etta would have wanted her death avenged, and Peter removes the device from his head!
This episode, while interesting, was very contrived. The entire "Peter as an Observer" idea was one that I think should have never been used, or used all the way through, as him turning into an Observer. As sad as that would have been, his removing the device makes it seem like it was just a device to move the plot along. Overall, a very strong episode. Highlights included Olivia's badassery returning, her touching speech to Peter, and the symbolism of that bullet, which has saved multiple lives and is the most obvious symbol and theme of the entire show. Not that I mind.
Black Blotter:
This season's famed "Episode 19″ did a lovely job of being, well, Episode 19ish while also moving along the plot. Walter's depressed state leads him to take Black Blotter, acid he had stored in his lab. The LSD causes Walter to hallucinate; he begins to see his old assistant Carla, who tells him the he is–and will always be–the old Walter. A notebook with all of Walter's (during his 100% brain capacity days) notes and project appears. Carla tells him to read it and save the world; Nina appears and tells him not to read it, that he doesn't need it. The radio that the Observer-child had, from the episode "Through the Looking Glass and What Walter Found There" begins to pick up a frequency. Olivia and Peter are searching for the signal and they find bodies protecting the tower relaying the signal. One of the bodies is Sam Weiss. Team Etta triangulates the signal and they're off–including Astrid, which is the first time she's left the lab since she got there. They go to the source and find the Observer-boy, now called Michael, living with an elderly couple. Team Etta takes Michael; because he "doesn't view time the way we do," he recognizes Olivia from the original timeline.
Walter imagines himself in a Monty Python-esque land, where he rides Gene and sees a black umbrella used as a key. This suited the style of the episode, allowed Walter to partake in one of his favorite pastimes, and allowed him to solve the riddle needed in proving that they meant no harm to Michael. The parallels between Carla and Nina–and Walter's cognitive brain functioning–are also ones that have begun to be hinted at, and I'm sure will begin to show up even more as the season progresses.
Anomaly XB-6783746:
Michael proves to be an Observer different than the others; the previously used device does not work. Unlike the original timeline, where he connected with Olivia through their feelings, he has no means of communication with them. Team Etta seeks Nina's help; she tells them where to find the necessary goods. Nina waits with Michael in an underground Loyalist lab. They discover that Nina has been compromised; the Observers are on their way to her. Nina hides Michael in the lab, but not before he touches her face and she learns something. The Observers come; Nina commits suicide so they cannot read her thoughts. When Team Etta returns they discover Nina's body–and that Michael was left behind. Once they find him, he touches Walter's face. Walter sees flashes of his past, and learns who Donald is: September!
So far this has been my favorite episode this season. You see the slow progression of Walter's brain regenerating–he continues to call Michael "the subject," and is curt and pessimistic. But when he sees Nina's lifeless body, he quickly transitions to the old Walter, mourning his good friend's death. We also learn about Michael: that he is an anomaly who should have been killed–seemingly reminiscent of the Doctor Who episode with the broken daleks–and that he is not a child. He also sheds a tear when he sees Nina's body; showing that, like August, Observers can learn to feel emotions. This is unlike September, who was a human and turned Observer.
Nina's speech was also wonderful, and are the words that can accurately and beautifully sums up this season so far.
"Do you know why you tilt your head in that way? It's an involuntary reflex in your physiology. It changes the angle at which sound waves hit the eardrum, allowing in more stimuli. Like a lizard. I've studied them too. Intriguing characters. Their brains have evolved over 320 million years, yet for all their evolution, they form no bonds. Love does not exist for them. They are incapable of dreaming, of contemplating beauty, of knowing something greater than themselves… not unlike your kind. The experiments we conducted right here in this lab, yielded a surprising result, because for all your years of evolution, you inadvertently redeveloped and honed primitive instincts that we moved beyond long ago. So in reality, you're the animal."
I think one of the things that has helped this season the most is when they began straying from the "videotape of the week" format. Or their formulaic: 10 mins recovering tape, 10 minutes watching/discussing the tape, then 20 minutes recovering one small piece of this huge puzzle. Tonight looks like they're picking things up; hopefully interesting things will continue to evolve. Watch the teaser for "The Boy Must Live" here.
Emily enjoys all mediums of speculative fiction, fantasy, and sci-fi–especially reading, writing, and watching them. A Fringe fanatic, she is convinced that one day she will meet her parallel self, aptly nicknamed Femily (Fake Emily), and save both worlds from their inevitable destruction.
---
Posted: November 26, 2012
Filed under: Fox, Fringe, Recaps
| Tags: Abrams, Fringe, Observers, Peter Bishop, recap, Walter Bishop, Wyman
2 Comments »
Life, the universe, and other less important things have put a delay on my posts. But I'm back–and will be posting again regularly (at least until January 18th). Which is the date of my DEATH (or, more accurately, the date of the two-part finale).
***Warning: While there are recaps for the last three episodes, there are also a lot of horrible analogies and metaphors, and crazy amounts of me freaking out and ranting. Also, this will be broken up into two parts, as it's too long for one post.  Oh, Fringe. You crazy show, you.***
Fringe fans, we have been dealt an unbelievably strange hand of cards. I mean, sure, we're still in the game. We've got maybe… a pair of Kings at best. Which, you know, isn't a completely horrible hand. However, when you compare it to the freaking STRAIGHT FLUSH we had a few seasons–er, turns–ago, we're dying. DYING. We've slowly been edged out, and instead leaving when we were freaking millionaires, we're going to have to leave the table because we lost it all. Does that mean we didn't have a few good hands? No. It just means we were broke and were kicked out and CANNOT PLAY POKER.
However, unlike poker, where things seem to be all about luck, for television shows you need things that will pull people in; things that will have them returning week after week. For me, those things are (if you are Fringe)–haha, no. But they are, mostly, consistency in a show, great plot, likeable actors (to a certain extent), and a few other things.
The biggest problem with this season is the fact that seasons 1-3 of Fringe were phenomenal. The right blend of creepy, satire, loveable characters and plot arcs to make this one hour the highlight of my week. There was nothing–I repeat, NOTHING–I would have rather done than watch Fringe, sans season four. Now I don't really care that it'll be three weeks until the next Fringe episode–even though FOX promised us to have the last seven episodes played consecutively! Don't promise things you can't keep, FOX. Jeez.
Sure, I could recap that last few episodes instead of just ranting for thousands of words. And I will. Right here, in a few paragraphs.
An Origin Story: 
Everyone is still sad that Etta is dead. Team Etta learns that they are intercepting goods from a wormhole–from future Observers. They catch an Observer and Peter tries to "break" him. Astrid decodes the Observers' book, which details exactly when and where the next drop is coming from. They plan to throw a bomb into the wormhole, effectively destroying all the Observers (magically, and without destroying the earth!). However, they first need to learn how to open the device which triggers the Observers. Peter figures it out by seeing when the Observers' eyes dilate. But–surprise, surprise–it doesn't work. Peter gets very angry and says "I'd be ten times the man you were if I had your tech in my head." Then he kills the Observer, takes a small piece of equipment (which looks like the devices the parallel universe stuck into Fauxlivia's hands to teleport her home), and puts it in his own head. Meanwhile, Olivia is still sad, and Walter tells her she needs to watch a vhs of Etta as a child; the first step in trying to recover from Etta's death.
Through the Looking Glass and What Walter Found There: 
This could have been the famed "episode 19." Walter watches one of his several vhs videos and decides to go look for the clues by himself. He goes into a pockethole universe, where time has stopped and the laws of gravity do not exist; where you need to do a quirky little dance before entering in. Astrid, Peter, and Olivia later follow him in (but, of course, Astrid doesn't go inside). They find a man who was blown in by a blast, and a bed where a young Observer-like boy from season one is supposed to be–but isn't. Oh, no! And a man named Donald from Walter's past is revealed. Windmark comes back (Whatttt–thought he was killed with Etta) and tells Peter that putting the Observer tech in his head was a grave mistake–that he didn't know what he was doing.
Five-Twenty-Ten: 
Peter uses his new Observer-like qualities to successfully plant a bomb and kill several Observers (admittedly, the coolest, most visually intriguing part of the episode.) Team Etta is looking for Observer tech from previous seasons, which is stored in William Bell's secret, secret storage (which is why they needed Bell's hand). Blah, blah, blah, Nina is sad because Walter is mean to her, Walter feels bad an apologizes, and Peter reveals to Olivia that he's becoming an Observer.
This is more painful than last season, where the first episode was interesting, but  then episodes about… oh, say, 2-15 blended together because it was without one of the main stars, Peter, and focused solely on seeing his return. Sure, it was an interesting concept. But, like Joel Wyman said, "deleting  Peter from existence" was a BAD IDEA.
Things only went downhill from there. Blah blah blah, Olivia's still sad. Why? We don't know. She doesn't know. She just knows she's an unemotional robot losing her memories, which she is completely okay with, because Peter (who has returned now) is AWESOME. But is he really that awesome? In a completely cynical and devil's advocate role, I'd like to point out that sure, he's great. But I mean, honestly, he left her after his daughter left. Sure, it was justified. But it completely consumed him. And let's not even talk about what the hell he's doing this season. Because that is one of my biggest problems so far.
And I've got a lot of them. Here we go.
What happened to my beloved characters? I know that this is an alternate reality (where technically no one is the same person, except Peter of course). But why are they so… lackluster now?
Why is Windmark back? Didn't he die with Etta?
There is a suprising–and very annoying–lack of consistency and continuity right now. And it is making me mad and sad and hurt and betrayed and all these confusing emotions.
What's up with Astrid not being used at all? She is playing at pointless character–who cares about stupid tapes stuck in amber? One of my hugest problems with this season is that it is becoming disturbingly similar to what happens when I try to write novels: sure, there are high points, but overall it's mostly me rambling, having my characters do nothing, killing boring people off when I'm tired of them (or when they replace who I really want my protagonists to be. I know my novel-writing is abysmal at best. Which is why I primarily stick to short stories. But, really, Fringe? This is how low you have stooped?! That I compare you to an unfinished novel where I wrote more than two thousand words on the importance of making a fire correctly and how to skin a rabbit? You are breaking my heart, Fringe, and I don't know what to do.
Does anyone really care about Walter's brain? We all know he's turning back into Walternate; but why is that? Do brain cells really take MONTHS to regenerate? Because originally it worked just fine and then something snapped in his brain (I don't remember if this really happened or it was unexplained. Either way, I don't care enough to look it up.) and now he's slowly turning into Walternate again. Now I'm not saying I don't think John Noble is doing an excellent job–to the contrary, he is doing a BRILLIANT JOB. However, why does he have to be going through this again? It's repetitive and uninteresting.
What is up with the Observers' magnetic thing in their brains? I refuse to believe the only thing that separates humans from their future selves is a little chip that takes over their brain. That is the most STUPID THING I HAVE EVER HEARD OF. And it was never explained to us before. Unlike regular reveals, where it's like "oh, all the actors knew except us," this one is more like "You are an idiot, Peter. And if this really was possible, don't you think someone else–in the twenty years–would have done this before? Or is it such a horrible idea that Peter is the only one that would do this?"
(Rant continued in next post.)
---
Posted: May 16, 2012
Filed under: Fox, Fringe, Recaps
| Tags: David Robert Jones, Doomsday Device, Fringe, J.J. Abrams, Lincoln Lee, Massive Dynamic, Olivia Dunham, Peter Bishop, recap, September, Shapeshifters, The Observers, Walter Bishop, Walternate, William Bell
1 Comment »
Previously on Fringe: Brave New World, part one
Fringe, my love! What a great closing season finale. We find out almost immediately that Astrid is fine. (Of course my Astrid is fine. She had to be okay. After all, she was in Letters of Transit!) Belly has taken Walter captive, where he proudly shows a horrified Walter the new world he's created. (Oddly enough, Bell's perfect world has room for only one human: himself. He is perfectly content with the human race dying out, and letting his hybrid animals live peacefully by themselves.) Bell claims to have gotten the idea from Walter. Walter did indeed being thinking of working on an entirely new universe, but the idea so scared him–that is, his own brilliance–that he begged Bell to take out parts of his brain.
Olivia gets a call from Jessica, from part one, who is terrified that someone is following her. Upon her and Peter's arrival, they find that Jessica works for Bell! She's managed to capture September with the help of Bell's magical weapons, which can best the Observers. Poor September is immobilized, and Jessica shoots him with a high-speed gun, directly in the chest (so that's when September was shot!). Olivia uses her magical powers to stop the second and third bullets, using her hand as a ricochet, instantly killing Jessica. Jessica is then taken back to Walter's lab, where Peter and Nina work on temporarily bringing her back to life to find out where Walter's been taken. (This scene is the one of the creepiest things I think I've ever seen. Second only to the Marionette episode last season. Those who dare can watch it here.)
Nina comes to the realization that Bell's power source is Olivia; with all the cortexiphan in her body, she is the one triggering the collapse of both universes. With this information, they manage to triangulate Bell's location: on a boat (no swim trunks and flippy floppies on this one, unfortunately). As the two universes are collapsing, the ship Bell and Walter are on can has already disappeared into the other universe, meaning only Peter can see it. Luckily for them, Olivia has the power to cross between universes. They jump from their helicopter into the parallel universe–and onto the boat–where they storm the cabin where Bell and Walter are. Bell has been reciting Yeats, and Walter manages to stealthily load Bell's gun.
Peter points his gun, stolen from the helicopter at Bell, who happily announces that it's too late–even shooting Bell will not stop it. Then Walter turns, says, "Forgive me," and shoots Olivia point-blank, effectively cutting off Bell's power supply–and the collapse of both universes. Craziness! Bell rings his bell and vanishes to who-knows-where. Peter is distraught, but Walter brusquely tells him to help lift Olivia to the table. Apparently there's so much cortexiphan in her system that if they get the bullet out, her brain will be able to heal itself. They perform the "operation" successfully, and our Olivia's okay again!
The final moments include: Broyles being promoted to General; Fringe getting extra funding from the government; Walter telling Peter that all the cortexiphan needed to heal Olivia's brain could have exhausted all the cortexiphan from her body… maybe; and Olivia telling Peter that she's pregnant! The last scene has Walter making food when September comes to see him and says, "We have to warn the others. They are coming."
(Ignoring everything I know thanks to Letters of Transit), my mind is officially blown. Again.
Thoughts: 
This episode has been on my mind for a few days, and I've come to the realization that it was a good episode–especially part two–and I have to accept it the way it is. I still wish the episode 19, Letters of Transit, didn't give so much away, but it was still a pleasure to watch. Although some of the answers seemed too tidy, I'm guessing that it's either because it will be addressed next season, or they were having a hard time transitioning to a maybe-season-five when originally writing this episode.
I don't really understand Olivia's powers; they seem to come and go at will. Why couldn't she have prevented September from being shot? And the fact that she now might not have cortexiphan in her system seemed too… intentional. My way of thinking usually goes: if I could have thought of the scenario (for example, of a spike of cortexiphan to have Olivia "die," then save her, and then her "death" use up all the extra cortexiphan), then I'm not impressed.
I was also unimpressed with Peter's ability to get September out of his magical rune with a little rubbing of a 2 by 4. Also, why didn't they call back-up? Or were they just ahead of the other FBI agents…by like 30 minutes?
I find it interesting that Observers cannot see their own futures. Or September can't, anyway. How would one go through their future memories?
I loved how they were on a boat–like Noah's ark, only Belly's crazy, demented "ark."
If Walter was so unemotional when shooting Olivia, why couldn't he do the same to Bell? Was he out of bullets? Surely he didn't want to let Bell get away–after all, Bell was going to destroy two universes.
I didn't like the "cliche-ness" of Olivia being pregnant. Plus, it's like 4 years too early if the child is Henrietta. But maybe these questions/quibbles will all be answered next season.
Now we know where Etta's bullet-necklace came from!
I'm ready for season five now–bring on some more awesomeness
Quotes: 
Bell:  The Bible tells us God created his universe in seven days. It's taken me considerably longer. Beautiful. Isn't it?
***
Olivia: Well, what are we gonna do about finding Walter? Our only lead is dead.
Peter: That doesn't mean we can't still question her.
***
Bell: Yes, Walter. We cut those ideas out of your head to literally put 'the Genie' back into the bottle. Then I grew older. I grew cynical. I grew cancer. Then I realized that dosing myself with Cortexiphan would slow it down. But slowing is not stopping. For me, it's just a matter of time. The clock is ticking. Tick, tick, tick, tick. And that's when it occurred to me. You were right, Walter. Walter, you were right, right, right. Every rant you ever went on made perfect sense. Suddenly, I understood not just you – but everything. God made us in his image. If that is so, if we are capable of being Gods, then it is our destiny to do so.
Walter: No. No, William.
Bell: My dear friend, even if you deny it now, you have always been playing God. I am.
***
PETER: It's gonna be okay.
OLIVIA: You know, for the first time, I don't think that it is. I remember being in that lab in Jacksonville when Walter and William were doing the Cortexiphan Trials. I remember how it smelled, how I felt, how scared I was, how all alone I was. And now, you know, years later, nothing's changed. I'm still that little girl, and William Bell is still doing experiments on me. I'm just still being used.
PETER: No. Something has changed. This time, you're not alone.
***
Walter: Forgive me.
Peter: You killed her!
Walter: I'm so sorry, Olive.
Peter: Don't touch her.
***
Walter: Excuse me, Miss. Is that Lemon Jell-o?
Orderly: These are urine samples.
Walter: Oh, well, in that case, no, thank you. I'm more peckish than thirsty.
***
Walter: I don't suppose you're here for a sandwich.
September: We have to warn the others. They are coming.
Walter: Who's coming?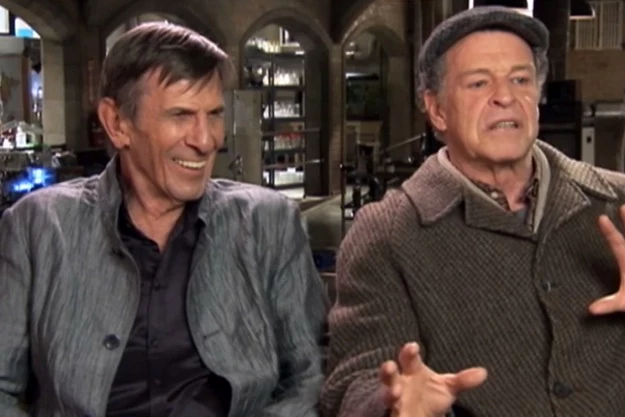 "The Two B's," as they affectionately call themselves!
See more behind-the-scenes with Leonard Nimoy and John Noble here and here.
Emily enjoys all mediums of speculative fiction, fantasy, and sci-fi–especially reading, writing, and watching them. A Fringe fanatic, she is convinced that one day she will meet her parallel self, aptly nicknamed Femily (Fake Emily), and save both worlds from their inevitable destruction.
---