Posted: March 19, 2012
Filed under: ABC, New for Fall 2011, Recaps
| Tags: Dwarves, fairy tales, Heart, Katherine, Mr. Gold, Ms. Blanchard, Once Upon a Time, Prince Charming, Rumpelstiltskin, skeleton key, Snow White
3 Comments »
Previously on Once Upon a Time: Red Handed
This week on Once Upon a Time, we pick the thread of Snow and Charming's tale, while the cards are stacked against Ms. Blanchard. In the Enchanted Forest, Snow has forgotten her love for Charming and is determined to kill the Evil Queen, and Charming is determined to make her remember him, while avoiding King George's guards. They're happy for a record five seconds before they're torn apart again. In Storybrooke, more damning evidence is discovered points to Ms. Blanchard as the killer. Emma thinks she's being set up, but David starts to doubt her.
In Storybrooke, Emma is forced to book Ms. Blanchard. Even though the sheriff doesn't believe she's a killer, she must pursue the evidence. Emma interrogates Ms. Blanchard, with Regina present to ensure objectivity, and it's uncovered that box is actually Ms. Blanchard's jewelry box. She claims someone broke in and stole it, but Regina points out to Emma that there was no break in, and a woman scorned in love will do anything. Emma goes back to their apartment to search, and Henry shows up to help (hi, Henry! I miss you!), claiming Regina is framing Ms. Blanchard because she hates Snow White. Unfortunately for all of them, Emma finds a knife in the heating vent. Henry drowns his sorrows in hot chocolate at Granny's, and August tells him he should look for answers in his book – the book that just happens to contain stories that really happened.
Henry is ecstatic that someone believes, but August tells him Emma is the sort of person that needs proof. Emma starts to think that Ms. Blanchard needs a lawyer, and Mr. Gold appears to offer his services. Henry's proof is the ring of skeleton keys from Regina's office, and when Emma tries them in the door to her apartment it opens. David starts to think his blackouts are the key to Ms. Blanchard's innocence, and visits Dr. Hopper to retrieve his memories – unfortunately he goes so deep in his hypnosis he remembers Snow talking about killing the Evil Queen. He confronts Ms. Blanchard with his doubts, and she's crushed he would think her capable of such evil.
The next morning, Ms. Blanchard also finds a skeleton key – one that opens her cell. Emma brings her breakfast and bad news: the heart was Kathryn's, and Regina appears to be framing her. She promises to clear Ms. Blanchard's name if she has faith. Emma is taking no chances on this one. She goes to Mr. Gold and is willing to play dirty if it frees her friend. Ms. Blanchard, however, is not willing to sit around and find out.
In the Enchanted forest, we pick up where we left off at the end of What Happened to Frederick– Red and Charming on are the run from King George's army. Red goes wolf-like to hold them off, and they split up. Meanwhile, forgetting her love has given Snow the personality of a sullen, bitchy teenager. The dwarves are so concerned they call on Jiminy Cricket to hold an intervention. Snow decides to spare the dwarves her bitchiness and take it out on the Evil Queen – by murdering her. Before she can put her plan into action, Grumpy wants to take her to Rumpelstiltskin, the man who can do anything. But Rumpelstiltskin can't cure Snow – even he doesn't have the potion to restore true love – and instead offers Snow a magic bow to kill the Queen, at no cost. Charming learns of Snow's intentions and visits Rumpelstiltskin.
In exchange for his cloak, he gets information on how to find her, and a warning that if she succeeds with her plan she'll become as evil as the Queen. Charming finds Snow's hiding spot and forces a kiss on her. It doesn't work, and she leaves him tied up while she continues on with murdering. Luckily, Jiminy frees him, and he shows up just in time to take Snow's arrow. He tells her he would die for her, and its enough to make her see past her anger. This time she kisses him and remembers. Of course, King George's men show up at that moment to tear them apart – again. She goes back to the dwarves to apologize, and they promise to help her free Charming. Just in case we're thinking Rumpelstiltskin let everyone off easy, he combines a hair from Charming's cloak with the hair he got from Snow, finally creating a potion that gives him power over love.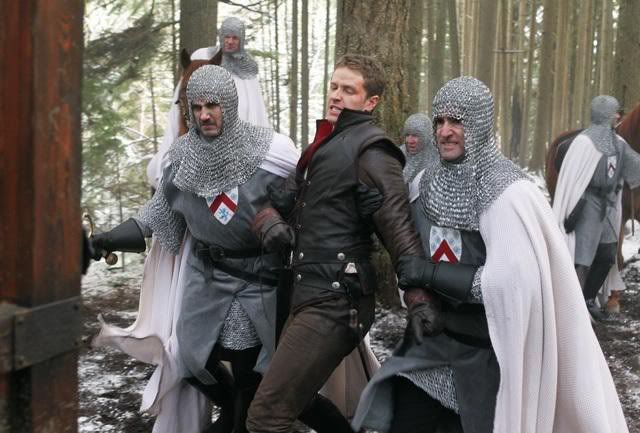 Next week, Sebastian Stan (aka Carter Baizen from Gossip Girl) plays the Mad Hatter. Our fairy tales have already included murder and adultery, so why not throw in some insanity too?
Thoughts/Theories
o After disappearing for a few weeks, everything seems to have fallen into place for Mr. Gold. Though I'm not exactly happy that he's using Emma and Ms. Blanchard as his pawns, I'm hoping Kathryn's murder trial will be the battleground where he takes some wind out of Regina's sails.
o August claims he's here to help Emma believe in the curse. I'm going to be hopeful here and think that's actually the case. It's about time Henry had an ally, and I hope this means good will start winning a few battles against Regina.
Nicole N. decided to justify the countless hours she spends watching television by writing about it here. She enjoys a challenge and is currently re-watching all 15 seasons of ER. Follow her @nicolemnelson
---
Posted: February 15, 2012
Filed under: Fox, Glee, Recaps, TV
| Tags: Aaron Hill, blaine, Brian Stokes Mitchell, Brittana, Glee, Glee Project, Heart, Jeff Goldblum, recap, Samuel Larsen, Sugar Shack, Valentine's Day, Whitney Houston
1 Comment »
Previously on Glee: The Spanish Teacher
Story
After everyone's favorite Mob Princess (didn't hear that from me), Sugar Motta, gives the New Directions a hefty donation to cover the cost for Regionals the fun begins! Artie and Rory compete over who gets to take Sugar to her Valentine's Day party. Rachel and Finn tell everyone about their marriage plans, including Rachel's dads! The "God Squad" welcomes a new member and student.
Foreign Exchange Policy: Initially – for like three seconds – I thought Rory was genuine about being sent back toIreland after the school year was over then I remembered I'm not the one with a four-leaf clover in my pocket. Worse things have been done in the attempt to get "the girl". Of course we don't know how Sugar will react when she finds out the truth but that may just get lost in the summer like Sam and Mercedes' relationship.
Poor Artie: Artie has always been my favorite member of the New Directions and it pains me to see him so lonely. Each of his former girlfriends are in happy relationships…and he has to sit four feet away from their respective PDA everyday. Now that Sugar is smitten with Rory who knows if he'll get another chance at teenage love. Also, how did he rig that mechanisms OVER Sugar's locker?! But lastly, Team Artie misses you Brittany S. Pierce…
"Straight to the Teenage Lovemaking" Never have I seen a couple so excited to crash into a brick wall like Rachel and Finn. Yes, they are the beautiful high school love story. Yes, they are complete opposites – which makes it all that much more endearing. Yes, Jeff Goldblum and Mike O'Malley are your fathers. But I just feel they are destined for destruction when they leave Lima. Daddy Goldblum's words to live by: "Honesty. Respect. Dance."
"Jesus" Joe: Now that three of the four winners of The Glee Project have made their debuts I have to say I am impressed with the overall performances. Of course the sample size for Joe (Samuel Larsen) is still small but I can see him being a main character in seasons to come. McKinley has the most intermittent religious/celibacy groups in high school history but I'm sure his talents will be less sideshow by the time Nationals rolls around.
Morals Matter: After all the back and forth with Sam, Mercedes, and Shane it seems that we have a conclusion. I was hoping that we got a glimpse of "Samcedes" but, I figure, if it hasn't happened by now then it never will. On another note, I didn't watch the Grammy's or see any tribute to Whitney Houston for that matter but I'm sure Mercedes' rendition of "I Will Always Love You" was among the best.
Music
In the loving spirit of Valentine's Day, all the performances automatically started off with an 'A'. Before we jump into the musical offerings of Heart, I have to mention how great it was to see Aaron Hill (Beaver, Greek) as the guy Nick at the end of the episode and finally meeting Rachel's dads, which was like My Two Dads except way better.
L-O-V-E – Mike and Tina (A)
The first thing that came to mind watching Mike and Tina was that these two don't get nearly enough screen time singing and dancing together. And they may not be the strongest singers in the club, but they've both come a long way from last season. This was a very adorable performance, especially as a soundtrack for the love war Artie and Rory waged against each other in the hopes of wooing Sugar. Perfect opening song.
Let Me Love You – Artie (A)
When it comes to the guys, Artie has the best voice for any R&B songs. They made the beat a little more up-tempo than the original and lyrically Artie's love song pick was a bit slanderous to the sweet Rory, but it still got him the girl. Toss in Sam, Puck, Kurt and Mike for added effect and you have a good idea of what this song would've sounded like if Mario was in a boy band.
Stereo Hearts – The God Squad (Joe, Sam and Mercedes) (A+)
First things first, Teen Jesus Joe is hot and as much as I love a New Directions alternative, I really can't wait to see him perform with the glee club. When Glee covered Billionaire, Artie handled the Travie Mccoy part of the song, this time around Sam took on the duty…and I LOVED IT. The God Squad, specifically Mercedes, sounded great, but it was the choir that really made this performance particularly amazing. It was so good in fact that I won't ask why so many students were eating outside in the middle of the winter.
Home – Rory (A)
Similar to Michael Buble, Damian McGinty has a magical voice. So when Rory sang this song under the pretense that he was being sent back to Ireland and added a few tears, it was a given that Sugar was going to change her mind. Artie's intense side-eye meant that he figured this out almost immediately, but it didn't change anything. When Rory let out the last note of his performance, he had the girl and her sympathy. Bonus points for being so cunning.
I Will Always Love You – Mercedes (A+)
Between Dolly Parton's beautiful lyrics and Whitney Houston's extraordinary voice, the bar for anyone who even touches this song was set decades ago, but we all knew that Amber Riley would do it justice. I won't even pretend that I didn't cry the entire time. It was a reminder of Houston's death, but also how incredibly talented she was. When I watched it again, I focused on it as just another Glee performance and Sam's heartbroken look was bad enough, but when he cried and left the room…I lost it again. Although this wasn't a great moment for them as a couple, it made me want to see more of them as actors, Chord Overstreet in particular. I'm glad Mercedes got over that "everyone only pays attention to Rachel, so I'm going to huff around like a brat" phase, she's much more enjoyable this way.
Cherish/Cherish – Quinn (and the God Squad) (A)
Madonna and The Association were both well represented in this mini mash-up. I know it's nearing the end of her run, but I'm finally starting to appreciate Dianna Agron's voice. This was another really sweet performance and we finally got the Brittana kiss. Kudos to the writers for not making this scene unnecessarily religious or political. "Love is love" and romantic moments are romantic.
Love Shack – Blaine (and the New Directions/God Squad) (A+)
In fairness, I have to note that I'm one of those people that will gladly spend my "jukebox money" to hear this played, which accounts for part of the high grade. The other part? Blaine is back (with a heart-shaped eye patch)!! Sure, he wasn't gone that long, but it felt like forever. Who cares that this song isn't even remotely romantic, it was an awesome performance! I'm sure the writers that decided to make a connection with Sugar Shack and Love Shack were quite pleased with themselves. Kurt doing Cindy Wilson's "Tin roof, rusted" at the end was the best. Great episode closer.
---