Posted: June 3, 2012
Filed under: ABC, Duets, New Show, Recaps
| Tags: Jennifer Nettles, John Legend, Kelly Clarkson, Quddus, Robin Thicke
Leave a comment »
Previously on Duets: Superstars' Greatest Hits 
This week answered some lingering questions from the pilot episode–and emphasized the already-known information several times. New information included the fact that America (aka all the viewers watching at home) will be voting for week six, whatever that means. My stellar math skills combined with the fact that I'm not sure how often and how many contestants are voted off each week mean that I don't know how many people will be left for week six. The winner will be given a recording contract with Hollywood Records. Interestingly enough, the superstars are given full-reign over everything about the performances, including what song they will be singing.
As all singing tv shows are, this one will inevitably be compared to American Idol. While they do sing the entire song–which is one thing that annoys me about AI (especially when they pick and choose random lines of the song to sing. Sing an entire verse, weirdo!)–it is incredibly lacking in other ways. I'm not much of a Ryan Seacrest fan, but he looks amazing compared to Quddus, who continually makes creepy jokes and appears to be reading cue cards most of the time. A Simon presence is also missing on this show. While the judges did make an effort to give more constructive criticism, most of their talking was left-handed compliments, snarky remarks to other judges, or just random crap. Thicke told Bridgette that she "looked like bag of skittles." What in the world does that mean? I don't even want to know.
Onto the singers!
John Legend:
Poor Johnny Gray had to leave for undisclosed reasons, so Legend went off in search for a replacement singer and found Meleana Brown. Singing "Endless Love," tied her with J Rome for first place! Their harmonies were amazing, and she showed no signs of nervousness even though this was her first time on stage.
Bridgette Carrington sang "I Know You Were Waiting (For Me)," which got her third place. Legend, insightful as ever, said that the previous song was too low for her vocal range. As this song was originally sung by Aretha Franklin and George Michael, Bridgette's voice didn't measure up to Aretha, and Legend overpowered George Micheal's sections. Although they sounded good together, it was kind of boring. Like most of everyone's performances on Duets, they're not bad—they're just not amazing or mindblowing.
Kelly Clarkson:
Jason Farol sang "Whenever You Call," and came in seventh place. Because he cried during his audition with Clarkson, I thought he would work on proving that he wasn't star-struck anymore, but this wasn't the case. Instead, he looked to Clarkson to lead the song, so he was more of a back-up singer than her partner. Also, he didn't hit the right  note on their key change. What's more painful than that?
Jordan Meredith sang Pink's "Misery" and came in fifth place. She started pretty strong, but by the end Meredith looked a bit tired and over it–and Clarkson sang the last few notes alone. Their harmonies were nice,  but the song seemed to be a bit too low for Meredith's vocal range. Legend also said that she was kind of pitchy–which Clarkson through a fit about.
Olivia Chilsolm sang "Where Is the Love," originally sung by Roberta Flack and Donny Hathaway. First off, she didn't know this song–blasphemy! And when they performed, Robin's voice was stronger than hers. Impossible. She came in eighth place. They were both weak during the chorus, and parts were also nasally.
Alexis Foster sang "You're All I Need to Get By," which got her sixth place. Again, Robin and his partner had weaker–and softer–voices than original singers Marvin Gaye and Tammie Terrell. The chorus seemed to be too high for Foster, and Clarkson said she seemed disconnected from Robin during the performance .
Jennifer Nettles:
J Rome tied again for first place singing "You're the One That I Want." Everything about their performance was extremely over the top and cheesy, including the backup dancers. He seemed to be voted number one because of his natural on-camera charisma and attitude, because all the superstars agreed that this  did not show off any of his vocal talent.
John Glosson sang "Ain't No Mountain High Enough," which earned him fourth place–again. I think that Glosson has a great voice, but they didn't to anything amazing to the song, and they also looked at each other the whole time. So awkward. Thicke gave his only normal and genuine advice for the night, saying that he would have done better with a different song.
My thoughts:
I think this show has the chance to become something amazing–the superstars just need to pick better songs and stop being so snarky and defensive. It would also be nice for Quddus and Thicke to stop acting so creepy.
We'll see what next week has to bring. The next episode is "Songs That Inspire," so hopefully the songs will be amazing–and mindblowing!
Emily thinks that music is amazing. Her favorite musical artists include The Beatles, Stevie Wonder, Elton John, Billy Joel, James Taylor, Joni Mitchell, Mumford and Sons, Coldplay, Kanye and Eminem. If writing doesn't pan out, she plans on becoming a rapper… once she learns how to do so without laughing. (Maybe that's what happens when a tornado meets a volcano! )
---
Posted: May 29, 2012
Filed under: ABC, Duets, New Show, Recaps
| Tags: Duets, Jennifer Nettles, John Legend, Kelly Clarkson, Quddus, Robin Thicke
1 Comment »
The Premise:
In the newest reality singing show, Duets has four "superstars"–not judges or mentors–searching the country for talented individuals. As a fan of John Legend and Jennifer Nettles, I'm excited to see where this show will go. The two other talented superstars are Robin Thicke and American Idol winner Kelly Clarkson. The show is hosted by Quddus, known for his other hosting gigs.
The premise of Duets isn't quite clear. Right now each superstar has found two singers to, well duet with. When the superstar sings with their partner, the three other judges listen and anonymously rate them on talent and personality. There's a studio audience, but I don't think any voting by "America" is done. However, singers are voted off–but it's a little unclear how.
Unfortunately, Duets is lacking their Simon–an honest, if at times brutally so, judge. After voting, all the judges–I mean, superstars–are all given a chance to speak to the duo. The camera pans on the superstars during the song, so their reactions to the song are seen, even if they're not verbalized. None of the judges had anything really mean to say–or anything helpful, either. When looking for their two singers, there were certain aspects that the superstars were looking for: Robin was looking for someone with soul, Kelly a singer whose voice matched hers, and so on.
Because this week was "Superstars' Greatest Hits," the superstars sang their hits with their partners, and we were shown a little bit of the choosing-partners scenario, as well as some background information on the singers.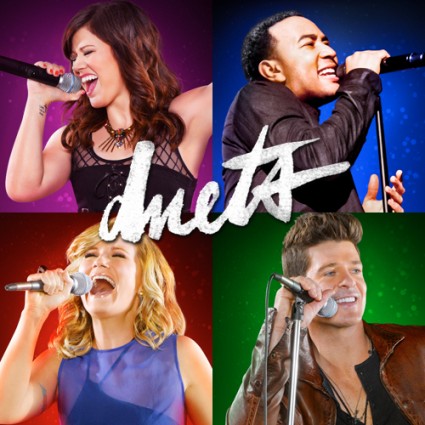 Onto the singers!
John Legend's were:
Johnny Gray, who sang "Ordinary People." He came in second place, and for good reason! Legend was originally hesitant to choose him because Gray sang with too many riffs and chord changes, while Legend wanted the simply melody. Gray kept them both to a minimum, which allowed the riffs he did do to be more pronounced. Their voices harmonized nicely–and sounded amazing together.
Bridgette Carrington sang "Tonight (Best You Ever Had)," and came in sixth place. Legend spoke of the difficulties seamlessly blending male and female voices together, trying to find a key that would show off both voices. Legend solved this problem by having Carrington's alto sang the lower chorus and harmony.
Kelly Clarkson:
Jason Farol singing "Break Your Own Heart." He came in last place. Clarkson was hesitant to choose him because he had no experience and broke down on stage when she was trying him out. Unfortunately, his nerves shone through and his voice was average at best. Their harmonies seemed a bit off, and the camera caught Legend making a few grimaces during the performance–although he didn't suggest anything to Farol.
Jordan Meredith sang "Stronger (What Doesn't Kill You)," which earned her seventh place. Clarkson somewhat snidely suggested that everyone was against her, as both her singers were at the bottom. However, I think it may be that Clarkson's songs are meant to be sung by one person with a strong voice–not two strong voices trying to harmonize. Meredith's voice was occasionally off-pitch during the stanzas, which I'm sure added to her low score.
Robin Thicke:
Olivia Chilsolm sang "Lost Without U" and came in fifth. Thicke sang falsetto for most of the song, which meant that Chilsolm's voice overpowered his–surprising, because Chilsolm doesn't seem to have much strength behind her voice. Despite this, their voices sounded great together.
Alexis Foster came in third with "Magic." Thicke let Foster be the main singer and sang backup. I think this was smart because Thicke's voice doesn't seem to be very strong. This also allowed Foster to shine during the song.
Jennifer Nettles:
J Rome came in first place and sang "Tonight." Unlike the problem Thicke had, Nettles' voice was too strong for Rome–she overpowered him. They sang with vibrato at different times–even when they sang at the same time.
John Glosson sang "Stay," and came in fourth place. This was my favorite performance of the night. Their voices blended together nicely, and Glosson's voice was like baby bear's bed–just right. Not too strong or too soft. They also had vibrato problems, but it was less noticeable than with Rome.

My thoughts:
I don't really understand the grading rubric for the show… or the premise. I'm hoping it will get more clear as time passes.
As amazing as these singers are, there's not really anything about them that differentiates them–or this show–from others.
I really didn't like how no one gave constructive criticism. If you're frowning during the performance, say something. (That was for you, John Legend. I don't understand how you can give such great advice to your partners, but then hold out on the others… Ooh, actually, I might have figured out why no one's giving helpful hints.)
Emily thinks that music is amazing. Her favorite musical artists include The Beatles, Stevie Wonder, Elton John, Billy Joel, James Taylor, Joni Mitchell, Mumford and Sons, Coldplay, and Kanye. If writing doesn't pan out, she plans on becoming a rapper… once she learns how to do so without laughing. (Maybe that's what happens when a tornado meets a volcano! )
---