Posted: March 27, 2013
Filed under: ABC, Once Upon a Time, Recaps
| Tags: August W. Booth, Emma Swann, fairy tales, Greg Mendell, Neal, Once Upon a Time, Pinocchio, Tamara
1 Comment »
Previously on Once Upon a Time: Welcome to Storybrooke.
This week on Once Upon a Time, August returns only to be taken away from us. (Whhhhhy?) In Storybrooke, August's actions have finally caught up with him and he's given up on redemption. Meanwhile, Tamara comes into town with a secret agenda involving magic. Elsewhere in the world, we catch up on what August was up to before he rode into Storybrooke.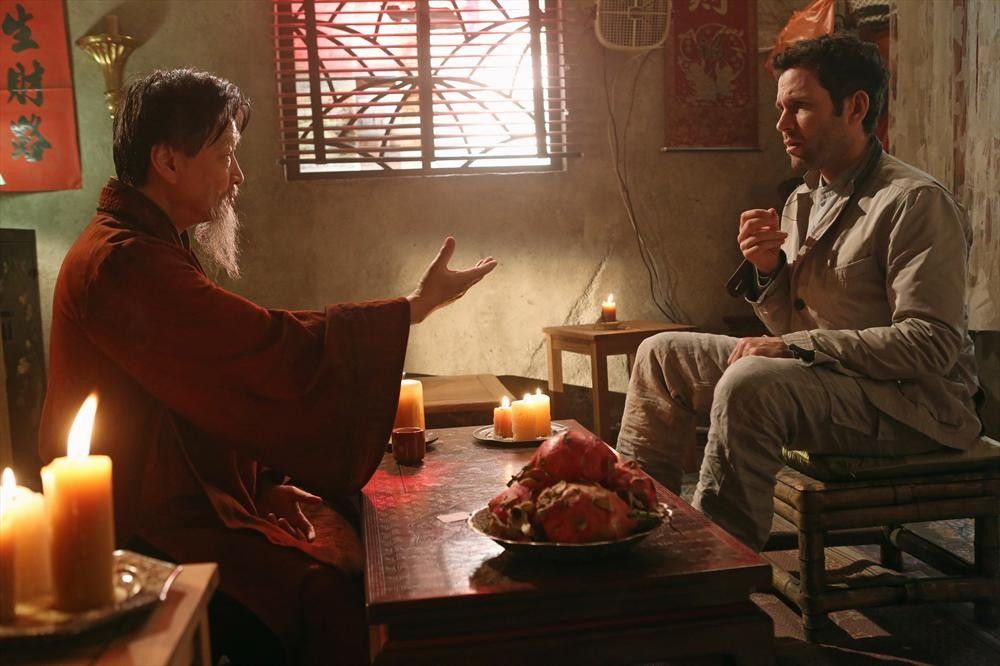 In Phuket back in October 2011, August wakes up in pain and discovers his leg is turning into wood. The doctor he goes to in Hong Kong sees nothing wrong and thinks August is crazy, especially when he stabs himself in the wooden leg to prove his point. On his escape from the hospital, he runs into a young man who offers to take August to "The Dragon," a man who can cure things "most people dismiss." While waiting to see The Dragon, he runs into Tamara in the waiting room. The Dragon (played by Tzi Ma), not only knows who August truly is, but how to cure him, at the cost of a personal item (the string his father used to animate him) and $10,000. August later runs into Tamara at a bar, and they bond over being potentially cured (cancer in her case), and the minute her back is turned he steals the giant envelope of cash she left unattended next to a stranger at a bar. August returns to The Dragon for the vial of his magical cure, but Tamara chases him down and steals it back. Tamara later visits The Dragon – turns out she wasn't sick at all, but searching for magic – and kills him.
In present day Storybrooke, Nealfire drops the bombshell that Tamara is coming to Storybrooke (and that Hook is back on the loose). Emma is not exactly pleased and she encourages him to tell her the truth. Nealfire, Tamara, Emma and Henry share an awkward bagel breakfast, complete with an endearing "spilled-coffee-love-at-first-sight" tale of how the two met. Henry leaves The Book with Nealfire, and he uses it to attempt to tell Tamara the truth, with disastrous results. Snow finally gets out of bed and heads to the woods for archery practice, where she discovers a completely wooden August hiding in a trailer. Though the lifting of the curse reanimated him, his wooden state is a result of straying from the path of good, and he rejects Snow's offer to come back to town. Snow, along with Emma and Marco, go to the Blue Fairy to ask her to restore August, but since he strayed from being "selfless, brave, and true," there's nothing she can do. Tamara, however, visit's August's trailer and offers what's left of her cure – if he leaves Storybrooke and stays out her way. Meanwhile, Regina realizes Greg's true identity, and tells him to leave town, since his father isn't there. On the way out of town, he finds Tamara's personal item in her car and realizes she was responsible for The Dragon's death. At the sheriff's station, he tries to call Emma to warn her, but Tamara has other plans and introduces him to her taser (that works on wood, apparently?). He stumbles outside just in time to "die" in his father's arms – but Henry recognizes his selfless act, and the Blue Fairy is able to restore him to the little boy he once was, with none of August's memories of course. Tamara appears at that moment and pretends to be astonished that magic is real. Pinocchio's honesty has everyone else coming clean: Emma promises not to lie to Henry anymore, and Snow tells Charming about her blackened heart. In a flashback, we learn that Tamara bumped into Nealfire on purpose; in the present, Tamara, a.k.a "Her," shows up at Greg's door.
That's it until April 21, when new episodes return with Robin Hood!
Thoughts/Theories
Ha, I was totally right about Tamara! Who is she really, though? Someone from another realm? Someone from the real world who just happened to learn the truth about magic? And if she's been in on it with Greg from the beginning, why is she using Neal? What is the master plan?
I'm curious what "The Dragon" implies in terms of other realms/magics that have found their way to the real world. The Enchanted Forest seemed to have an "Asian" kingdom, but I have to wonder if each culture's mythologies/fables constitute a realm? Imagine the possibilities if that were true!
Is Regina lying about the fate of Greg/Owen's dad, or not? I want to believe he's still alive – maybe hidden in Regina's asylum.
Nicole N. decided to justify the countless hours she spends watching television by writing about it here. She is currently terrified of Stanley's oddly-shaped head on Project Runway. For more tv-centric musings, check out her tumblr.
---
Posted: February 19, 2013
Filed under: ABC, Once Upon a Time, Recaps
| Tags: Baelfire, Emma Swann, fairy tales, Henry Mills, Neal, Once Upon a Time, Rumpelstiltskin
3 Comments »
Previously on Once Upon a Time: Tiny.
This week on Once Upon a Time, it's all about family. In New York, Emma and Rumpelstiltskin find Baelfire and it's not the reunion that any of them are expecting. In Storybrooke, Cora and Regina bond over their love of evil plans, while Greg continues to meddle. Finally, in the pre-Curse Enchanted Forest, we learn what set all of Rumpelstiltskin's plans in motion.
In the pre-curse Enchanted Forest, a pre-Dark One Rumpelstiltskin has been called to the front of the Ogre's War, and is eager for the chance to prove that he's not a coward like his father. At the front, Rumpelstiltskin is left to guard a child Seer, who prophesizes that Milah will bear him a son but his actions will leave him fatherless – and when they ride "cows into battle" he'll know she speaks the truth. The next night, he's told they'll be riding horses – complete with "cows" or saddles (really, writers?) into battle. Fearing death, Rumple breaks his own leg with a mallet so he'll be sent home. Milah is waiting with baby Baelfire, but she's disgusted with the shame her husband has brought on the family. After Rumplestiltskin loses Baelfire, he returns to the now-adult Seer for a way to get him back. She foretells of the Curse, and when she's unable to give more details he takes her powers – only to find he can't make sense of the jumble. She offers one final prophecy: a young boy will lead Rumpelstiltskin to his son, but will ultimately be his undoing.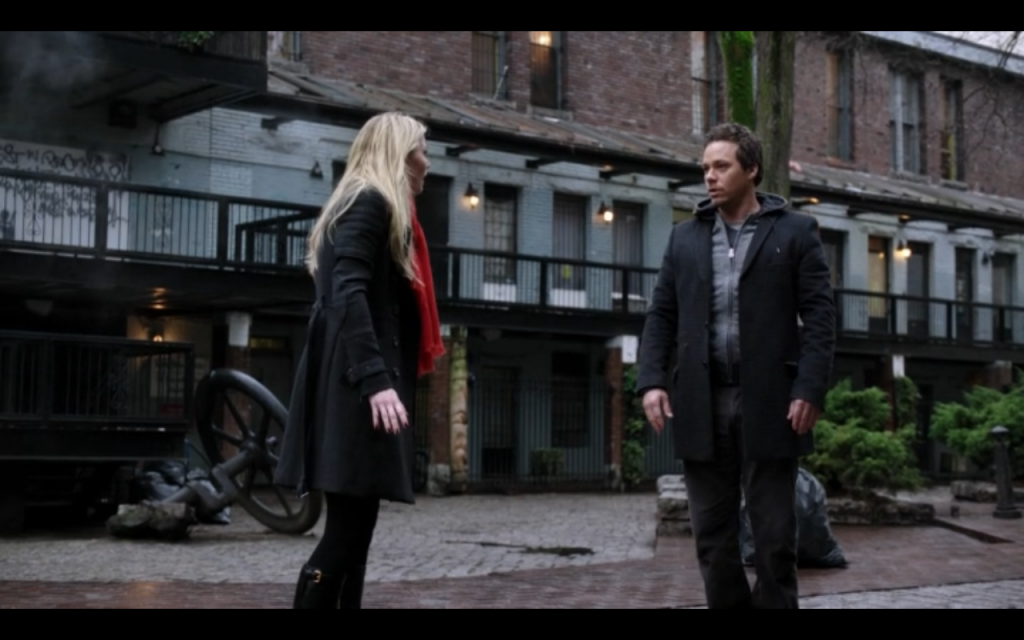 In New York, Baelfire is not expecting company, prompting Emma to leave Henry with Rumpelstiltskin as she chases down his son and tackles him. Baelfire is none other than Neal. Emma freaks out, and Nealfire freaks out that his father has found him. They take their respective freak outs to a bar. Emma accuses him of playing her, but Nealfire swears he had no idea she was the chosen one until August warned him off (the box contained his typewriter with the message "I know you're Baelfire"). She still feels manipulated, but he suggests their meeting was fate. Emma returns and lies that Bealfire escaped. Rumpelstiltskin is not willing to give up so easily, and as they search Nealfire's apartment he senses Emma is lying and they get into a shouting match, and his son appears. All the yelling prompts Henry to emerge from the bathroom, which causes Nealfire to realize that he's his son. Henry is totally disillusioned with Emma, accusing her of being like Regina for lying to him about his father. Nealfire agrees to hear Rumpelstiltskin out to fulfill Emma's deal, but nothing his father can say will encourage him to reconcile. Emma makes Nealfire promise not to break Henry's heart, and father and son meet for the first time.
In Storybrooke, Regina is upset that Henry has left town with Emma. Hook (who along with Regina and Cora can cross the town line without losing their memories, since they weren't victims of the curse) wants to follow Rumple to New York and finish him off while he's powerless, but Cora would rather use the opportunity to get his dagger and destroy him that way. Regina visits Belle in the hospital and despite having two good hands she uses magic to search Belle's purse – solely as a plot device so Greg can record the whole thing on his phone and send it to "Her." A note from the purse leads Regina, Cora, and Hook to search the library. They find a map that Hook deciphers, after which they knock him out and leave him behind. Regina worries that her mother is only after the Dark One's power, but Cora says the dagger will allow them to control Rumple and use him to remove all obstacles to Henry.
Next week, Hook heads to the Big Apple for his revenge.
Thoughts/Theories
• Dear Show, I love it when you prove me right and make me happy. Love, Me. I'm SO EXICTED that Neal is Baelfire! Now that he's being thrown into the mix I'm really excited to see how this convoluted family dynamic develops.
• Speaking of family, I can't believe that Regina is actually going to go along with Cora's plan. After all, Regina saved Emma and Snow only a few episodes ago – I doubt she would break Henry's heart like that.
• Knowing what we know now, I wonder if Rumple's ability to see the future and the Seer's prophecy had anything to do with him bringing baby Henry to Regina.
• Who is "Her"?
Nicole N. decided to justify the countless hours she spends watching television by writing about it here. She is currently upping her political savvy by watching all of The West Wing. For more tv-centric musings, check out her tumblr.
---
Posted: July 23, 2012
Filed under: HBO, quotes, Recaps, The Newsroom, TV
| Tags: Amen, Egypt President, hbo, jersey scene, Mackenzie dumps Wade, Mubarak, Neal, Nina Harper, Olivia Munn, recap, Rudy, Sloan and Mackenzie, Sloan Sabbath, The newsroom, TMI, Valentine's Day
2 Comments »
Previously on The Newsroom: I'll Try to Fix You
Elliot is in Egypt covering Mubarak's announcement that he won't step down as acting President. He ends up getting  beaten during the riots because Don encourages him to head out to get a story.
Neal finds an underground informant in Egypt who goes by the name of "Amen" to help them gather information on the scene.
Maggie buys gifts for Jim to give to Lisa for Valentine's Day so Lisa doesn't ruin the mood for Maggie and Don.
Charlie informs Mac and Will that Wade is running for political office and his frequent appearances on the show may cause some ethical problems.
Sloan tutors Mac about the economy before she has to speak on a panel about the topic in a few days.
Will pays Nina $50,000 not to report the story about Wade and Mac in the tabloids. He also has a few choice words for her (refer to quote below image).
"Come  after me all you want. Come after me everyday. Look through my garbage. Invent things out of thin air because that's what you're paid for. But you touch my staff and you are walking into a world of hurt. I have an hour of prime time every night that I will rededicate my life to ruining yours." -Will (to Nina)
"In this order: Leave. Lose the election. Go to Hell." Well it seems that all my plans are starting to take shape. Yeah, Mac should have told Wade that she and Will use to be an item but Wade going behind her back and using her job to gain exposure for his career was too far. I wasn't sure how it was going to happen but it was inevitable these two (Will and Mac) were going to gravitate back towards one another before too long…or maybe it's just a St. Valentine's Day miracle?
Neal's Newsroom? Possible show name? I mean, this kid has eyes/fingers on everything! Maybe it's because he is practically attached to a computer at all times but he can find anything. he found and befriended "Amen" before Will and Mac finished explaining the situation in Egypt. I understand that, at times, he may go too far into the realm of internet conspiracy theorists but I'd take that chance with him any day.
Friendship Exchange: It didn't occur to me that Sloan was the residential robot–emotionally speaking–of the crew until this eppy. And I definitely didn't see her character linking up with Mac, although I did enjoy their interactions. A slew of fast-paced, fact-based witty remarks makes me swoon like no other. Mac and Sloan really don't have any other real friends in the newsroom so it makes since that they find comfort in each other. I just hope Sloan is human enough not to sleep with Will and ruin two potentially epic relationships.
Sorry, Mac…but any person with a stitch of athletic fiber, or just some simple decency (Geesh!), in their body cried at some point during Rudy but the "jersey scene" had to be chief among them.
"Quotes
"I'll begin by saying that Will cries when he watches the movie Rudy." -Mac
"No, I don't." -Will
"Cries like an onion." -Mac
"Onions make you cry, they don't themselves experience emotion." Will
"I just need you to teach me a few things so that it looks like I know something. How long did it take you to know what you know?" -Mac
"College. Grad school. Doctorate. Post-Doctorate. Practical experience. 15 years. When's the panel? -Sloan
"Tuesday morning." -Mac
"How about I give you a few things to write on your hand?" -Sloan
"You're gonna be like St. Valentine himself. You're g–" -Maggie
"St. Valentine actually–" -Jim
"Focus, nerd!" -Maggie
On the next episode of The Newsroom:  Bullies
Will is a (not so) recovering TV and movie addict and TVDM only helps in feeding his vices. TVDM is the best outlet for him to spread his disease–without the use of airborne pathogens...
---