Posted: May 16, 2012
Filed under: Fox, Fringe, Recaps
| Tags: David Robert Jones, Doomsday Device, Fringe, J.J. Abrams, Lincoln Lee, Massive Dynamic, Olivia Dunham, Peter Bishop, recap, September, Shapeshifters, The Observers, Walter Bishop, Walternate, William Bell
1 Comment »
Previously on Fringe: Brave New World, part one
Fringe, my love! What a great closing season finale. We find out almost immediately that Astrid is fine. (Of course my Astrid is fine. She had to be okay. After all, she was in Letters of Transit!) Belly has taken Walter captive, where he proudly shows a horrified Walter the new world he's created. (Oddly enough, Bell's perfect world has room for only one human: himself. He is perfectly content with the human race dying out, and letting his hybrid animals live peacefully by themselves.) Bell claims to have gotten the idea from Walter. Walter did indeed being thinking of working on an entirely new universe, but the idea so scared him–that is, his own brilliance–that he begged Bell to take out parts of his brain.
Olivia gets a call from Jessica, from part one, who is terrified that someone is following her. Upon her and Peter's arrival, they find that Jessica works for Bell! She's managed to capture September with the help of Bell's magical weapons, which can best the Observers. Poor September is immobilized, and Jessica shoots him with a high-speed gun, directly in the chest (so that's when September was shot!). Olivia uses her magical powers to stop the second and third bullets, using her hand as a ricochet, instantly killing Jessica. Jessica is then taken back to Walter's lab, where Peter and Nina work on temporarily bringing her back to life to find out where Walter's been taken. (This scene is the one of the creepiest things I think I've ever seen. Second only to the Marionette episode last season. Those who dare can watch it here.)
Nina comes to the realization that Bell's power source is Olivia; with all the cortexiphan in her body, she is the one triggering the collapse of both universes. With this information, they manage to triangulate Bell's location: on a boat (no swim trunks and flippy floppies on this one, unfortunately). As the two universes are collapsing, the ship Bell and Walter are on can has already disappeared into the other universe, meaning only Peter can see it. Luckily for them, Olivia has the power to cross between universes. They jump from their helicopter into the parallel universe–and onto the boat–where they storm the cabin where Bell and Walter are. Bell has been reciting Yeats, and Walter manages to stealthily load Bell's gun.
Peter points his gun, stolen from the helicopter at Bell, who happily announces that it's too late–even shooting Bell will not stop it. Then Walter turns, says, "Forgive me," and shoots Olivia point-blank, effectively cutting off Bell's power supply–and the collapse of both universes. Craziness! Bell rings his bell and vanishes to who-knows-where. Peter is distraught, but Walter brusquely tells him to help lift Olivia to the table. Apparently there's so much cortexiphan in her system that if they get the bullet out, her brain will be able to heal itself. They perform the "operation" successfully, and our Olivia's okay again!
The final moments include: Broyles being promoted to General; Fringe getting extra funding from the government; Walter telling Peter that all the cortexiphan needed to heal Olivia's brain could have exhausted all the cortexiphan from her body… maybe; and Olivia telling Peter that she's pregnant! The last scene has Walter making food when September comes to see him and says, "We have to warn the others. They are coming."
(Ignoring everything I know thanks to Letters of Transit), my mind is officially blown. Again.
Thoughts: 
This episode has been on my mind for a few days, and I've come to the realization that it was a good episode–especially part two–and I have to accept it the way it is. I still wish the episode 19, Letters of Transit, didn't give so much away, but it was still a pleasure to watch. Although some of the answers seemed too tidy, I'm guessing that it's either because it will be addressed next season, or they were having a hard time transitioning to a maybe-season-five when originally writing this episode.
I don't really understand Olivia's powers; they seem to come and go at will. Why couldn't she have prevented September from being shot? And the fact that she now might not have cortexiphan in her system seemed too… intentional. My way of thinking usually goes: if I could have thought of the scenario (for example, of a spike of cortexiphan to have Olivia "die," then save her, and then her "death" use up all the extra cortexiphan), then I'm not impressed.
I was also unimpressed with Peter's ability to get September out of his magical rune with a little rubbing of a 2 by 4. Also, why didn't they call back-up? Or were they just ahead of the other FBI agents…by like 30 minutes?
I find it interesting that Observers cannot see their own futures. Or September can't, anyway. How would one go through their future memories?
I loved how they were on a boat–like Noah's ark, only Belly's crazy, demented "ark."
If Walter was so unemotional when shooting Olivia, why couldn't he do the same to Bell? Was he out of bullets? Surely he didn't want to let Bell get away–after all, Bell was going to destroy two universes.
I didn't like the "cliche-ness" of Olivia being pregnant. Plus, it's like 4 years too early if the child is Henrietta. But maybe these questions/quibbles will all be answered next season.
Now we know where Etta's bullet-necklace came from!
I'm ready for season five now–bring on some more awesomeness
Quotes: 
Bell:  The Bible tells us God created his universe in seven days. It's taken me considerably longer. Beautiful. Isn't it?
***
Olivia: Well, what are we gonna do about finding Walter? Our only lead is dead.
Peter: That doesn't mean we can't still question her.
***
Bell: Yes, Walter. We cut those ideas out of your head to literally put 'the Genie' back into the bottle. Then I grew older. I grew cynical. I grew cancer. Then I realized that dosing myself with Cortexiphan would slow it down. But slowing is not stopping. For me, it's just a matter of time. The clock is ticking. Tick, tick, tick, tick. And that's when it occurred to me. You were right, Walter. Walter, you were right, right, right. Every rant you ever went on made perfect sense. Suddenly, I understood not just you – but everything. God made us in his image. If that is so, if we are capable of being Gods, then it is our destiny to do so.
Walter: No. No, William.
Bell: My dear friend, even if you deny it now, you have always been playing God. I am.
***
PETER: It's gonna be okay.
OLIVIA: You know, for the first time, I don't think that it is. I remember being in that lab in Jacksonville when Walter and William were doing the Cortexiphan Trials. I remember how it smelled, how I felt, how scared I was, how all alone I was. And now, you know, years later, nothing's changed. I'm still that little girl, and William Bell is still doing experiments on me. I'm just still being used.
PETER: No. Something has changed. This time, you're not alone.
***
Walter: Forgive me.
Peter: You killed her!
Walter: I'm so sorry, Olive.
Peter: Don't touch her.
***
Walter: Excuse me, Miss. Is that Lemon Jell-o?
Orderly: These are urine samples.
Walter: Oh, well, in that case, no, thank you. I'm more peckish than thirsty.
***
Walter: I don't suppose you're here for a sandwich.
September: We have to warn the others. They are coming.
Walter: Who's coming?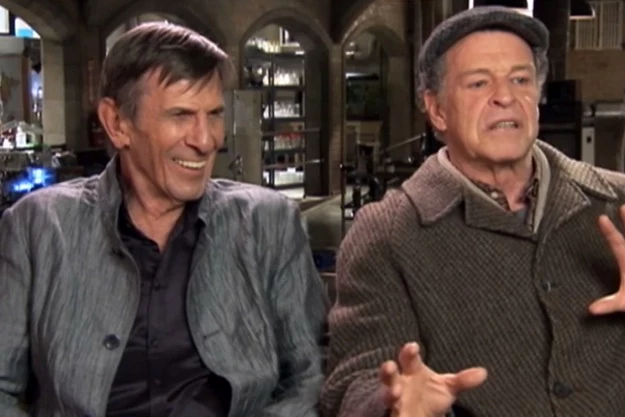 "The Two B's," as they affectionately call themselves!
See more behind-the-scenes with Leonard Nimoy and John Noble here and here.
Emily enjoys all mediums of speculative fiction, fantasy, and sci-fi–especially reading, writing, and watching them. A Fringe fanatic, she is convinced that one day she will meet her parallel self, aptly nicknamed Femily (Fake Emily), and save both worlds from their inevitable destruction.
---
Posted: May 10, 2012
Filed under: Fox, Fringe, Recaps
| Tags: Alt-Lincoln, David Robert Jones, Doomsday Device, Fauxlivia, Fringe, J.J. Abrams, Leonard Nimoy, Lincoln Lee, Massive Dynamic, Olivia Dunham, Peter Bishop, recap, Shapeshifters, The Observers, Walter Bishop, Walternate, William Bell
1 Comment »
Previously on Fringe: Everything in Its Right Place
We left off last week with a twist so huge I'm surprised it wasn't the season finale. Part one of the season finale started off with a bang–semi-literally. Multiple people died spontaneously combusting upon movement. This means all the survivors had to stand still for hours while Fringe figures out what happened, and how to save them. Guest star Rebecca Madder (who starred on Abrams' hit show Lost)  plays one of the temporary survivors, Jessica Holt . She bravely volunteers to let Walter move her to his lab and run tests on her. While synthesizing a cure, Jessica's body begins combusting. As the cure is not finished, Olivia tries to calm Jessica down, but instead manages to cure her with her cortexiphan powers. (Think that's strange? Just wait.)
Onto the subplot: Walter is convinced that the device was created by William Bell–yes, that William Bell, who we thought had died in a car crash (in this timeline). Nina tries to dissuade him from this idea, begrudgingly telling him that Bell had Lymphoma, which is why he killed himself Christmas day, 2005. However, Walter is adamant that not only is Bell alive, but that Bell visited him at St. Clair's on New Year's Day, 2006–a week after everyone believes he has died. A visit to St. Clair's proves inconclusive, other than Walter taking a guest logbook. He bakes a page of the logbook in a miniature easy-bake oven lemon cake which has been drugged with cortexiphan, and it shows fingerprints with almond oil on it. Walter declares that Bell's favorite food used to be Chilean almonds–and he and Astrid are off again to the warehouse which Bell used to buy his almonds from.
While this is happening, Bell meets with Jones, who we learn is merely a pawn in this new, evil Bell's masterplan. They turn on two satellites, which has narrowed a beam of the sun onto an underground landmine, continuing with their plans to blow up the earth. Olivia and Peter arrive just in time to turn off the satellites, but Peter is attacked by Jones. Watching from atop a nearby building, Olivia is horrified to see that Jones is gaining the upper-hand, so she does what any sane, cortexiphan-laden girlfriend would do: she channels her powers and telekinetically controls Peter's body, which includes relocating his shoulder for him. (I told you it only got stranger. If it sounds strange, just imagine how it looked on screen.) Jones dies, and comes to the sad realization that he was Bell's bait–that Bell had planned for his death all along.
The end of the episode shows Walter and Astrid in the warehouse. They hear some suspicious noises and go to investigate and are shot at. Astrid shows some pretty kick-ass moves, but in the end they are trapped, Astrid has been shot in the chest, and Bell comes out of the shadows to talk to Walter.
Welcome back, evil Bell!
Thoughts: 
Although it makes me a bit sad an embarrassed to admit this,  I didn't really like this episode. But I'm going to say that's simply because we're in an awkward spot right now. As no one was sure if Fringe would get renewed, they had to film two endings to the show. I really think that if Fringe had been renewed a little bit sooner, Episode 19 would have been much different. As it is, it was pretty easy to guess that Bell was back–evil enough for Walter to ruthlessly cut off his hand–and that Astrid will be fine. Maybe Olivia will find some new powers and manage to remove the bullet and heal the wound.
On that note, either this timeline's got some crazy stuff floating around in the air, or my favorite writers are going slightly over-the-top with Olivia's powers. Even if Olivia did have the power to control Peter's actions, why didn't she simply control Jones? Plus, what will this mean in the future? It sounds like she's pretty unbeatable in a fight.
And what about the other people who had been about to spontaneously combust? Did I miss something, or was did Olivia manage to cure them all–despite not knowing how she cured Jessica?
All these questions and what I feel might be plot holes make me sad, because usually Fringe episodes are never like this. I'm really, really hoping it's just a "wow, now that we're renewed, the first half of this episode won't really fit" kind of moment. We'll see.
I never would have said I'd be sad that Jones dies, but I do have to admit that it was much more heartbreaking than I would have thought; especially when he realizes that he is Bell's "bishop piece." Poor Jones. But not really.
Yay for Leonard Nimoy's temporary return back to acting! I knew you'd be unable to resist the lure of sci-fi, despite the less-than-stellar episode.
Fun fact: Doctor Benlow was played by John Noble's daughter, Samantha Noble! If nothing else, I loved Nimoy's return and the amazing guest stars this episode.
Quotes: 
Walter: Maybe the deaths are associated with this mobile transaction.
 Astrid: No, Walter, this is just how people pay for things now.
Walter: Huh. What will they think of next?
***
Jessica Holt: What are you?
Walter: What am — I'm human. What are you? Is this some sort of alien invasion?
***
Walter: No. No. My hallucinations were rarely biped and never men.
***
Walter: You brilliant bastard, Belly.
***
Jones: I got it wrong. I was the sacrifice. I was the bishop.
***
Walter:I know this is a 'wild goose chase', a fool's errand, and I'm a fool,but no one is asking you to join me, Alex. It's my hunch, and I'm quite capable of pursuing it on my own, so peace out.
Walter: I don't–
Astrid: drive. Alex?
Walter: I was on a roll.
***
Walter: I'm not sure I ever thought I would see you again.
Bell: Hello, old friend.
Emily enjoys all mediums of speculative fiction, fantasy, and sci-fi–especially reading, writing, and watching them. A Fringe fanatic, she is convinced that one day she will meet her parallel self, aptly nicknamed Femily (Fake Emily), and save both worlds from their inevitable destruction.
---
Posted: May 1, 2012
Filed under: Fox, Fringe, Recaps
| Tags: Alt-Broyles, Alt-Lincoln, Bellivia, David Robert Jones, Doomsday Device, Fauxlivia, Fringe, J.J. Abrams, Lincoln Lee, Massive Dynamic, Olivia Dunham, Peter Bishop, recap, Shapeshifters, The Observers, Walter Bishop, Walternate, William Bell
2 Comments »
Previously on Fringe: The Consultant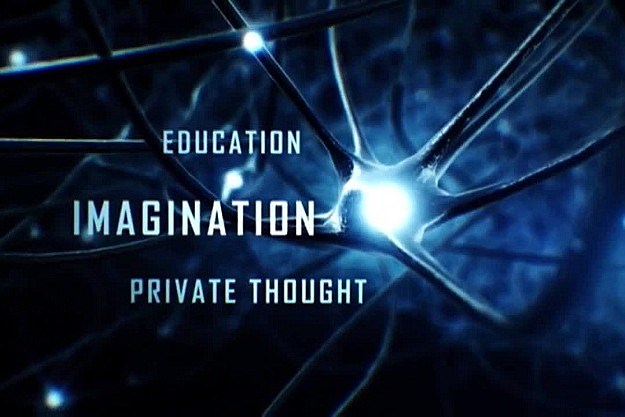 For Fringe, epsiode 19 is always an important one. In season one, it was one of the crucial episodes which turned the show from a regular sci-fi show to become the unique show it is right now. Season Two's episode is actual number 20, because "Unearthed" is from season one, but aired later on. "Brown Betty" was a musical dramedy episode, where Walter entertains Olivia's niece, Ella. Season Three's episode, fondly called "LSD," was similar to Inception due to the fact that, with the help of a little LSD, everyone was going into Bellivia's mind. This season was no exception. We went into the future—where the Observers rule the earth!
The Observer's true intention and reasoning for making sure that everything on earth goes "according to plan" has never been known. Until now. The Observers kill humans off in 2015, referred to as "The Purge;" they are no longer content with simply watching the earth's history pass by. In one of the most eerie moments on Fringe, we see the Observers using their powers for… well, evil. Eart's inhabitants have become a sort of sect, ruled by the Observers and the humans who have joined the Observers.
However, it is rumored that "the original Fringe team" (how cute is that?!) found a solution to getting rid of the Observers. But it's also rumored that they were killed years ago. In 2036, where this episode takes place, a young woman named Etta, played by Georgina Haig, and Simon Foster, played by famous Henry Ian Cusick, have found them! They help free Walter from the amber, which appears to have encapsulated all of the original team. When Walter is freed, he is exactly the same as before—however, additional parts of his brain have deteriorated, leading him to act even more quirky than usual. It's clear that while Etta and Simon have heard about Walter's brilliance, no one bothered to tell them about his odd habits. However, in order to retrieve the rest of the team, they need Walter's help.
With the help of Nina, Simon and Etta take the brain pieces Bell originally removed from Walter and replant them into his brain. And just like that—his actions and mannerisms revert from lovable Walter to those disarmingly similar to Walternate. They are able to rescue Peter and Astrid from the amber at the cost of Simon's temporary life—he pushes Peter out, but becomes stuck in the amber himself.
Later Walter, Astrid—whom Walter calls "Astro"—Etta and Peter are leaving, unscathed by the Observers who were close on their tails. Astrid questions Walter about his choice to leave Bell—he's back? YES.—and Walter angrily asks if she remembers what Bell did to Olivia. When Astrid adds that we need Bell's help, Walter calmly replies that he's got it covered–and stealthily pulls one of Bells hands, still encased in amber, out of his backpack. Creepy. Meanwhile, Etta and Peter are talking–but more like staring into each others eyes. Peter finally asks her if they know each other. Then, using his brilliant deduction powers, he realizes that Etta stands for Henrietta (like his son Henry!), to which she replies, "Hi, dad."
Thoughts: 
This episode fit perfectly with the other episode 19s. And, actually, I like it better than most of the other episode 19s. Usually, they are irrelevant to the overall plot. But this one foreshadows what's to come next season! And on that note:
Yay! Fringe was renewed for a final season! I didn't think it would happen, as FOX isn't making any money with the show. I'm just happy that Fringe is getting a proper finale, J.J. Abrams will finally direct an episode, and that the last episode will be their 100th one. How cute is that?! And here's the season five teaser. And I LOVE the beginning, with the multi-colored theme opening. LOVE.
I'm also worried about where Olivia is. Not only does 'Etta wear a fired bullet around her neck, but Bell clearly did something horrible to Olivia.
Etta's role as Peter and Olivia's daughter was somewhat predictable, but I still loved it. I'm glad that Peter finally got his child—as in the season three finale Olivia was unwilling to bring children into their world.
Quotes: 
Etta: We just removed you from Amber, Doctor Bishop. You were inside twenty years.
Walter: Twenty years? It's no wonder I'm so hungry. Do you have anything to eat?
***
Walter: What do you call it?
Simon: We don't know. We — we thought it was some kind of Beacon.
Walter: No, no, no, you Silly-Billy …this.
Simon: The same as you. we call it licorice.
Walter: Licorice. Licorice. Li-cor-ice. Who are you? You're quite pretty. Li-cor-ice. Do you have Ring-Dings?
***
Walter: I hope we're going to the circus!
***
Walter: These are not the droids you're looking for!
***
Walter: I am not a number. I am a free man.
***
Walter: I've eaten it once. It was sweeter than you'd think.
Simon: Feces?
Walter: God, no. Brains. And LSD. I love LSD.
***
Peter: Do you…
Etta: Know me?
Peter: I don't know how I could. I've been stuck in that Amber for over twenty years, you barely look old enough — Henrietta?
Etta: Hi, Dad.
AWESOME. (Kind of predictable, but still. AWESOME.)
Emily enjoys all mediums of speculative fiction, fantasy, and sci-fi–especially reading, writing, and watching them. A Fringe fanatic, she is convinced that one day she will meet her parallel self, aptly nicknamed Femily (Fake Emily), and save both worlds from their inevitable destruction.
---